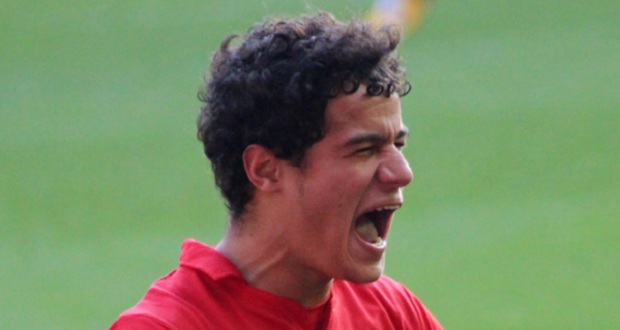 Since his arrival at Anfield, Philippe Coutinho has went from youth player with potential to a passing wizard and then into a player on the cusp of becoming a bonafide superstar. But, even with his growing stature in the game, Liverpool can and likely will flourish from his departure, rather than wilting away like the last time Barcelona came calling for one of its players.
Coutinho did play a big role in the team last season under Jurgen Klopp, but you always got the sense that despite how well he played that he was being shoehorned into the side. At left winger, Coutinho has always been brilliant going forward. In all honesty though, he's not a Klopp player in transition. He's one dimensional from that role, and when it works it's great- but when it doesn't- he doesn't show up in games.
So, occasionally last season we saw him deployed in central midfield. This was evident toward the end of the season against teams that were a little more vulnerable. While he played well, it's obvious he is not the answer there, either. At Barcelona, it will be a different story as his team will have the ball 80% of the time, meaning he won't have to defend. However at Liverpool, there are better options.
Coutinho's loss on the surface seems like the usual for Liverpool. They finally do well only to get rid of players and then the downward spiral begins. But the sale of Coutinho can actually make them stronger. One thing they need to do, though, is bring in a new center midfielder.
That man must be Arturo Vidal if and when Coutinho leaves. Vidal, an absolute gem of a player, is the perfect man for the role and he has been linked with the Reds of late. Vidal brings something Liverpool haven't had in some time: solidity and steel. Vidal is able to bring a cutting, tough-nosed edge to a team, making whatever team he's in feared. He is perfect for Liverpool.
The side's midfield now doesn't have that bite to it. But imagine Henderson doing the work along with Vidal. If anyone is unsure of his contribution, watch him for Chile at the Confederations Cup. His pressing is exactly what this Reds side needs in the middle of the park. Even at 30 years of age, there is no one better at this part of the game.
Along with his pressing and box-to-box play, he's a tough tackler and someone that can also pick out a pass. Maybe he's not Coutinho in that regard, but he's still been known to pass the ball very effectively throughout his career. He's also got a shot on him, similar to the Brazilian. And the number one kicker is: Vidal has a nailed-down, foolproof position to be held to. Something that cannot be said of Coutinho.
A midfield with Vidal, Henderson, and Lallana is much stronger than any midfield combination than Liverpool could muster right now. It would take some doing, but with all of the money from the transfer, it could surely be done!
In addition to that part of it, this move also allows more opportunities for youngsters that desperately deserve a chance. Ben Woodburn shouldn't be overused, no, but he does deserve a chance to play more and to develop. This is a talent that can't be passed up. He, along with Dominic Solanke, would more playing time without Coutinho there to hinder their development. This is another positive consequence that this move could represent, and it's one the Reds can't afford to overlook!