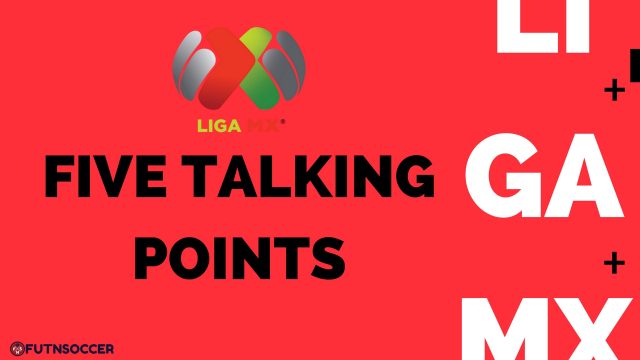 We saw some strange results this weekend, and even after just two weeks some teams are leaving their mark on this season.  It was one of those weeks where no matter what game you tuned into, you were guaranteed some action.  Every game this week had at least one goal, and 7/9 had at least two.  Here are the five biggest stories of the weekend:
Beat-down in Queretaro
Who would've thought BUAP would put up 4 goals at any point this season, let alone in their first game away from home.  But the Lobos completely dominated Queretaro from start to finish.  Julian Quiñones got things started off with a 27th minute header, and BUAP piled in three more in the second half to cruise to a 4-0 victory.  The same Queretaro team that stopped América a week ago was completely over-matched in the air, and in general looked as bad as the scoreline suggested.
For BUAP, it's a dream start to the season, with four points in two matches.  Life for a newly promoted team in Liga MX is a harsh one, as you need to be competitive immediately to avoid relegation.  Two 14th place finishes won't be enough to save them; this team needs to win a lot of games if they want to be here next year.  A big win like this does a lot not only for their points total, but team spirits as well.  They host the floundering Pachuca next week, and could make a huge statement with another win.
Atlas, Necaxa Remain Perfect
Look at the table and you'll find only two clubs have started the season with two wins; and it's probably not who you would've expected a month ago. But, Atlas have been the best team in the league through two weeks so far.  This Saturday they battled back from an early 1-0 deficit to defeat Pumas, and were comfortably the better team aside from the first minute when they conceded.  Atlas had a strong showing last year, and so far they've only improved since then.  I wouldn't call them big-time contenders just yet, but they're close.
Necaxa, on the other hand, really haven't been so fantastic despite the six points.  They scored twice early against Veracruz in Jornada 1 but looked shaky afterwards, though they held on to win 2-0 against Los Tiburones.  Then this week, they snuck out a 1-0 victory against Tijuana despite having only 39% possession and having less shots on goal. Furthermore, Jesus Isijara's winner should have been called back for offsides, which leaves you with a rather unconvincing performance by Necaxa. This six points will serve as a nice start, but unlike Atlas, I don't expect them to keep up their winning ways.
Time for Torrente to Go?
We've seen this before.  León are complete garbage for 6-7 jornadas, then suddenly have a late surge and become competitive.  It happened in both tournaments last year and right now La Fiera fans are hoping it will happen again; if it doesn't León are in some serious trouble. After taking another loss to Toluca this weekend, La Fiera have got zero points to their name and sit in dead last.  Manager Javier Torrente sort of escaped this situation last year, but what are the odds he can do it again?
Fans are getting restless, and most people agree that it would be best for the club if the two parted ways at this point.  León have enough talent to at least make the playoffs, and with consistent goalscorer Mauro Boselli on the field they can hang with the best on any given day.  There are other coaches who can get more out of this team than Torrente, and it's time for León to take action.
What Happened to Pachuca?
You know that feared offense from the past few years, the one that has won both league and international titles?  With Hirving Lozano gone, it looks like the offense has gone with him. It's not fair to blame Lozano, though, because it's not a lack of chances hurting Pachuca, it's a complete lack of finishing.  It can be argued that Los Tuzos were the better team in both of their matches so far, but they have yet to score because every time they get a shot off (which is fairly often), they drive it into the seats, into a defender, or straight into the goalie's hands.  We'll see if they can figure it out against BUAP next week (or rather we won't, because that game still won't be televised.)
Red Card Frenzy
Maybe you haven't noticed, but there's been a TON of red cards so far this season.  10 red cards in just 18 games of play, to be exact. The ref in this weekend's Tigres-Santos game got a lot of attention for being so card happy, as he gave out a total of 10 yellow cards (one of which caused a red).  Last year through 2 weeks in the Apertura, there were 4 red cards, but actually this is not an unusual stretch; Liga MX was incredibly red card happy last year as well.
The question really becomes, then, is this a dirty league? Or are the officials simply too strict? Well, it's a little bit of both if you ask me. A lot of those cards come from pushing, shoving, and fighting over other fouls or calls, and Liga MX benches get more red cards than any other league I've ever watched. Then you've got plays like in the Tijuana game on Saturday, in which Miguel Ponce was more a victim of circumstance than making an actually dirty play. Is it a red card? I think so, but I don't think that was an intentional attack on Xavier Baez.