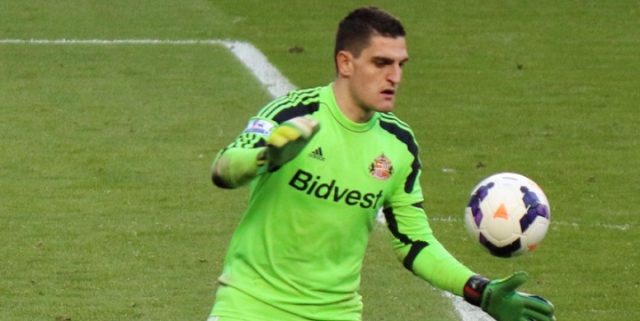 Sunderland goalkeeper Vito Mannone has revealed that he has yet to speak to manager Simon Grayson about his future at the club.
Following the Black Cats relegation from the Premier League last season, Mannone has been linked with a move away from the club, with reports last month linking him with a possible move to Italian club Genoa.
However the 29-year-old Mannone has since admitted that he is focusing on the upcoming Championship campaign at this point in time and has yet to discuss his future with Grayson.
He said, "I am actually focusing on what I am doing every day, that is my first aim. I come in, I work hard during the pre-season and that is my aim from now on – to take it day by day, work hard and try and be ready for the games.
"To be honest, I haven't had a proper chat with no one – with the manager – so we wait and see and I just focus on my job which is getting ready for the first game."
Mannone joined the Black Cats in 2013 from Arsenal. He lost his position as first choice keeper for the club last season to Jordan Pickford and following Pickford's departure, the club may look to keep him considering he has experience playing at the highest level.