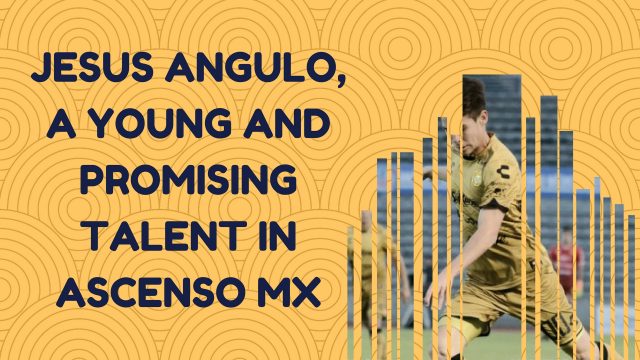 The Ascenso MX is full of unproven talent, players past their prime and players looking for redemption. There is also young talent within the league starting off their professional careers in Mexico. The Ascenso MX is not an easy league to be successful in, with the rough, physical style of play that the league offers. Every team is eager to get to the coveted Liga MX, which comes with a lot of sacrifice from all the players in each team.
Jesus Angulo, 20, is an emerging talent within this league having a breakout tournament with Dorados de Sinaloa. The native of Culiacan started off his professional career in 2013 with Aguilas de la UAS, a team in the fourth tier of Mexican football in Sinaloa. In four games with the team, Angulo scored a goal and attracted attention from a top tier club in Mexico, the Xolos of Tijuana. At 17-years-old, Angulo joined Club Tijuana and played with the Xolos' U17 and U20 teams up until the Clausura 2015 tournament.
From Club Tijuana, Angulo moved on to his hometown team, Dorados de Sinaloa in the Apertura 2015. After a couple of tournaments with the U20 team in Sinaloa, he made his Liga MX debut with the Dorados in the Clausura 2016. Angulo played in 80 minutes in the Liga MX but unfortunately, failed to score in his limited playing time. The Sinaloa native also participated in the Copa MX, scoring a goal in 117 minutes of play.The Dorados did relegate back to the Ascenso MX after just a season in the Liga MX. Jesus Angulo was not the main figure with the team in the Apertura 2016 competition, playing in just five games as a starter.
Now in the Clausura 2017, Angulo is an undeniable starter under Gabriel Caballero, having started in all 15 games this tournament. The 20-year-old is not only performing but excelling as well, with seven goals this tournament. The seven goals are tied for the most on the Dorados along with Chilean forward Patricio Rubio and are also tied for third best in the Ascenso MX. Angulo plays mostly as a winger and is an exciting player due to the amount of success he has had this tournament at his very young age. The Culiacan native could be one to watch if the Dorados achieve promotion this season or if a top tier team does give him a chance in the Apertura 2017.