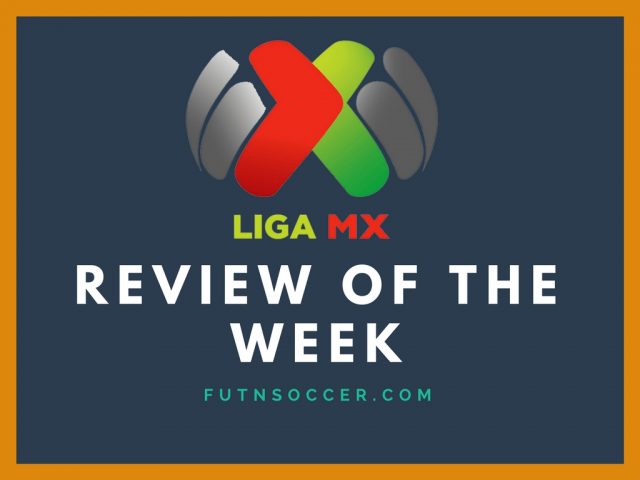 Liga MX has returned, after a brief hiatus due to last weekend's referee strike.  Although this was the 10th round of matches, it was still Jornada 11, with Jornada 10 to be made up at a later date.  In the present, however, Liga MX fans were treated to an absolutely delightful weekend of matches, in what was a true return to the league that we all love.  Even the lone 0-0 draw was an enthralling game, as Tigres and Cruz Azul traded off missing simple chances.  Here are the five biggest stories from the return of the league:
América Nearing the Liguilla.
América picked up another win on Sunday, and now have 7 points from their last three matches.  The surge is enough to bring them to the edge of the liguilla zone, where they are tied for 8th with Pumas.  Coincidentally, it was Pumas who were América's latest victims.  Las Aguilas took a 2-0 lead in the first half in front of a particularly rowdy Estadio Olímpico (Cecilio Dominguez was pelted with beer during the first half), but the lead would not last.
Rising star and MVP candidate Nico Castillo found himself in the second half, and scored twice early on to level the score. It was Dominguez who put América in front for good in the 81st minute with a nifty finish.  Somehow, with a motley crew lineup that included 16 year old Diego Lainez, Ricardo La Volpe's team handed Pumas their first home loss of the season.
Morelia Safer by the Day.
Morelia played Puebla on Sunday night in the final game of the jornada, their second straight "Clásico de Decenso."  In the dying minutes of the game, substitute Miguel Sansores got his head to a free kick and put Monarcas in front.  The win means that Morelia are now four points clear of Veracruz in the relegation table.  In addition to that, Monarcas are now in 7th place, good enough for a date with Monterrey in the first round were the season to end today.
Perhaps what is most impressive about this season from Morelia is that they have done it without relying too heavily on Raul Ruidiaz.  During the Apertura, Ruidiaz carried the team as much as he could, but this season Las Monarcas have found success in their defense.  In fact, only Tigres have given up fewer goals than Morelia this season.
Fuera Torrente?
That's what many León fans want after another brutal loss this weekend at the Nou Camp.  In what turned out to be an incredible match for neutral spectators (and Toluca fans), León fell behind on three separate occasions, and could not level the score for a third time late in the game, losing 3-2.  Javier Torrente and León have had a miserable Clausura, and are bottom of the table with a measly six points.  La Fiera have the worst defense in the league, having conceded 19 goals so far this year.  Most shocking about León's fall is the collapse of Estadio León.  Once considered one of the fortresses of Liga MX where visiting teams feared playing, this season La Fiera have not won a single game at home.
Chivas Takes Care of Business.

It was a great week to be a Guadalajara fan.  Chivas first pulled out a thrilling win in their Copa MX quarterfinal, thanks to a last minute golazo from Chofis Lopez.  Then in the league, the club handled Veracruz 2-0 at home, thanks to goals from Alan Pulido (a fantastic run through most of the Veracruz defense) and Ángel Zaldívar (not a penalty!).  Obviously, FC Juarez and Veracruz are hardly top competition, but Chivas did their job and disposed of both of these teams, like champions do.  Make no mistake, this team can win the title this year, and are just as dangerous as anyone else in the league.
Mixed Results for Liga MX in CCL.
Tigres collected a 2-0 victory at home against Vancouver, though despite having roughly 80% possession for most of the match, they struggled to crack the Vancouver defense until a good way into the second half.  Eduardo Vargas' strike in the 87th minute likely put Tigres into their second straight final appearance, barring a massive collapse from Tigres in Canada.
Pachuca were not so fortunate.  Heading to Dallas to face arguably the best team in MLS, this was no doubt a difficult test.  Things started perfectly, as the Tuzos took a lead just two minutes into the game.  Dallas, to their credit, hit back and ended up emerging with a 2-1 home victory, courtesy of a fantastic free kick from Kellyn Acosta.  The series is very much in the balance when the teams meet again in Pachuca on April 5.