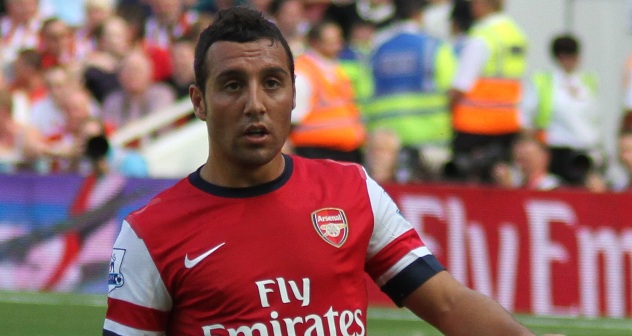 The Mirror is reporting that Arsenal midfielder Santi Cazorla is set to miss the rest of the season.
Cazorla limped off injured with an Achilles injury in against Ludogorets in October. The injury required surgery and the Spanish international was set to miss two months. However, Cazorla suffered a setback and a second injury was required.
At the time, Arsene Wenger wasn't sure when he would be able to call upon his Spanish maestro again. It now appears the club is dissatisfied with Cazorla's rehab progress and have decided to shut him down for the season. Cazorla will work on being fit for the start of next season in August.
Cazorla started the season in scintillating form, pulling the strings from midfield. In turn, Arsenal experienced a rich vain of form, only losing once from the start of the season to the end of November. Since then, Arsenal have struggled without Cazorla and haven't found the right midfield balance.
Granit Xhaka appeared to have established himself as the first choice central midfielder alongside Francis Coquelin. However, the Swiss international already has two red cards and there are concerns regarding his discipline. Aaron Ramsey has hardly been fit this season and can't make a consistent impact, while Mohamed Elneny has been in and out of the lineup. Coquelin's form has dipped, as well, without his regular partner in Cazorla.
Recently, Alex Oxlade-Chamberlain has stepped up in central midfield with a series of impressive performances. Youngster Ainsley Maitland-Niles was good as well in a few appearances since the turn of the year. Arsenal are entering a critical stage of the season and it remains to be seen how Wenger will choose to settle his midfield without Cazorla.
The Spaniard has one year left on his current contract after the club triggered an automatic extension in his deal. It remains to be seen what the future holds for Cazorla after 2018.