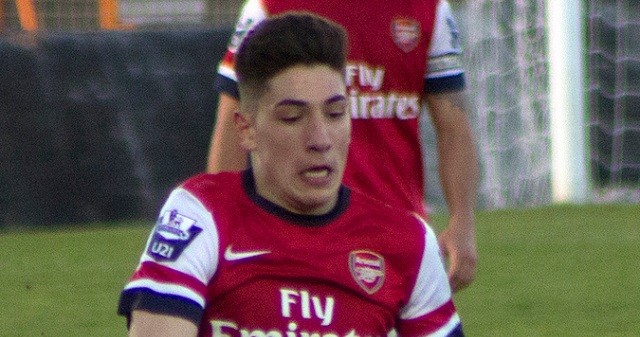 Mundo Deportivo are reporting that Barcelona are planning a huge offer for Hector Bellerin this summer.
The Catalan club are reportedly displeased with the performance of regular right back Sergi Roberto. According to Mundo Deportivo, Barcelona are willing to pay whatever it takes.
Bellerin is a product of La Masia but signed with Arsenal's youth team in 2011. He become a professional in 2013 and has gone on to make 97 appearances for Arsenal's senior team, scoring three times. Bellerin made his senior debut for Spain this past summer and has gone on to appear three times for country.
The 21-year old right back signed a new six-and-a-half year contract worth £115,000 per week earlier this season. Arsenal already rebuffed overtures from Manchester City this past summer, and it's unlikely their position will change in the coming months.
However, according to the Guardian, Bellerin would consider a move back to his childhood club if Arsene Wenger isn't Arsenal manager next season. It's understood that Bellerin signed new terms with the knowledge that Wenger would extend his stay beyond this season. The player feels a sense of loyalty to Wenger who brought him through the youth team, stuck by him during dips in form, and helped him develop into the Premier League's best right back.
It is understood that Arsenal's stance on Bellerin's future will not shift regardless of Wenger's future. While Bellerin remains under a long-term contract, Arsenal retains a greater amount of leverage on his future.
Wenger currently has a two-year extension on the table but will wait till most likely April to decide his future. The manager is under intense pressure from the fan base due to repeated mistakes and failures from season's past.
Bellerin becomes the second player in the Arsenal squad to link his future with that of Wenger's. In January, Mesut Özil told Kicker that his future was tied to that of Wenger's. The German playmaker has less than 18-months left on his contract and his future in London remains uncertain. Alexis Sanchez is in a similar position, as is Alex Oxlade-Chamberlain and Jack Wilshere. It's unclear how their futures are tied to that of Wenger's at this point.