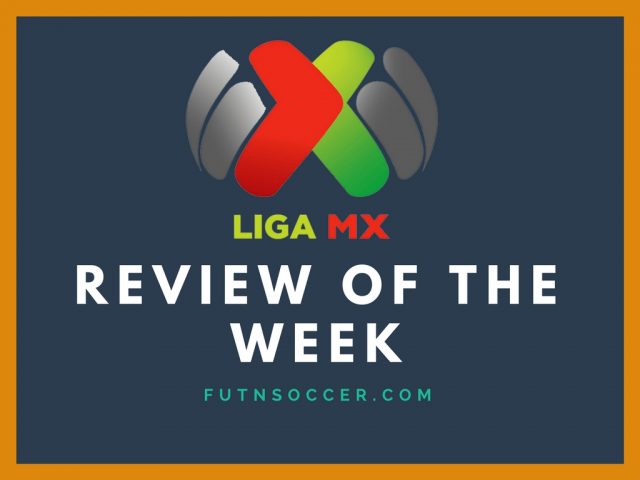 We had a weekend full of unexpected results and crazy stories in Liga MX.  27 goals were scored in total, good for an average of three goals per game.  It was a jornada that saw Tigres regain their footing, Puebla pick up their first win of the season, an incredible comeback at Estadio Olímpico, and of course, the Clásico Nacional.
Tigres Beat Veracruz in comfortable fashion, cruising to a 3-0 victory over Los Tiburones thanks to three second half goals from Andre-Pierre Gignac, Luis Quiñones, and Jurgen Damm.  This was only the second game of the season where Tigres managed to score, the other being the 4-2 victory over América back in jornada 3.  Perhaps the story of Friday night came after the game, however, as violence broke out at Estadio Luis "Pirata" Fuente.  Tigres players remained on the field and attempted to communicate with their outnumbered supporters, and manager Tuca Ferretti angrily clashed with a police officer on the field, urging him to send protection to the Felinos fans up above.
Puebla Finally Win.  It had been a miserable season thus far for Puebla, who were in last place and had seen themselves drop into the relegation battle.  Fortunately for them, their situation turned around this Sunday as they picked up a massive 3-0 over Jaguares, who continue to perplex Liga MX followers with their strange results.  Puebla have leapfrogged Leon and moved up to 17th place, with 6 points from their 7 matches.  While hardly a stellar season, Puebla will be delighted to see their points total double from one week to the net.
Chivas Knock Off Las Aguilas.  You know it was a crazy weekend when the Clásico Nacional isn't the biggest headline.  Ángel Zaldívar converted a penalty for Chivas in the 29th minute, and in the end that would be all it took for the win.  As with any game between these two giants, there was controversy; not only will some fans dispute the penalty call, but Miguel Samudio was sent off late in the match for what at first glance appeared to be an intentional stomp, but upon replay review seemed to be incidental contact that was impossible to avoid due to the way Samudio was standing.  The win moves Chivas up to 2nd place with 14 points, while América remain with just 7 points, in 14th place.
Pumas Earn a Point in Wild Second Half.  Tijuana took an early lead following a mind-boggling error from the Pumas defense and goalkeeper Miguel Palacios, and were up 1-0 at the break.  In the second half Tijuana reeled off back to back golazos to make the score 3-0 in the 65th minute, seemingly sealing the three points.  (By the way, Tijuana have now scored 16 goals this season, the most in the league.  Not bad for a side that lost their top scorer in the offseason.)  Pumas UNAM, however, did not give up.
Nicolas Castillo scored on a flying kick near the six-yard box to cut into the lead, and minutes later Pablo Barrera converted a penalty to make it 3-2.  Just three minutes after that, Castillo poked a cross off of Tijuana defender Juan Carlos Valenzuela and tied the game.  Castillo was initially credited with the goal, but it later was reversed to an own goal.  Regardless, this was one of the best games of the regular season so far, with an amazing five second half goals.
Querétaro Continue to Climb.  Perhaps because of their dreadful offensive start, Los Gallos have gone overlooked throughout the first part of the season.  A look at the table might surprise you; Querétaro are in 9th place.  This weekend they marched into Estadio Victoria and pummeled Necaxa 4-1.  The game escaped public attention because it was on at the same time as the Clásico, but here is one thing to take away from this game: After this surge of goals, the "miserable" Querétaro offense has now scored as many goals as Pachuca and Tigres, and has scored more than Cruz Azul and América.