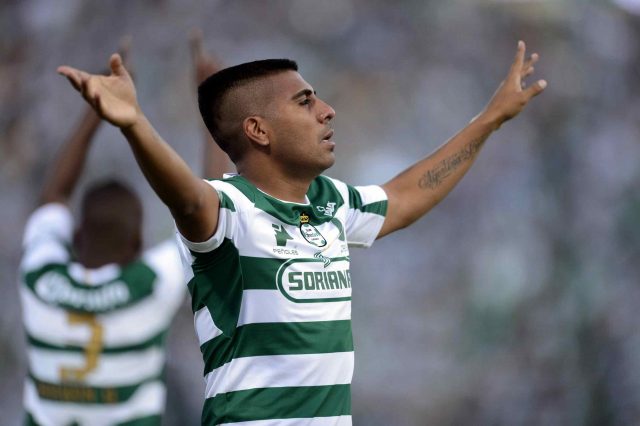 The Ascenso MX competition can be a dark chapter in a player's career where they play to be forgotten. Former top goal-scorers and stars of the Liga MX are found within this league trying to renovate their careers or just get that last whiff of football before they retire. Many are making the most of it and helping their teams reach the coveted top division of Mexican football, the Liga MX. Here are a few names you may remember.
Daniel Ludueña
Daniel Ludueña is back in Mexico, but at 34-years-old is trying to perhaps revive his career in the Ascenso MX competition. 'El Hachita' was once one of the best players in the Liga MX with Santos Laguna, where he went to five Liga MX finals and came away with two championships. The Argentine-born midfielder is now at another stage of his career with Tampico Madero in the Liga de Ascenso. He is finding success having scored three goals in seven games.
He also has several interesting teammates like Antonio Olvera, Omar Esparza, Omar Arellano and Marc Crosas. They are all managed by a familiar face in Daniel Guzman, who had an extensive Liga MX managing career, most notably with Santos Laguna. Guzman is the man who brought Ludueña to Santos Laguna and now he has brought him to the Ascenso MX with Tampico Madero.
Vicente Matias Vuoso
Ludueña is not the only former Santos Laguna superstar who now militates in the Ascenso Mx. Vicente Matias Vuoso, former figure with Santos Laguna in the Liga MX, now plays with Correcaminos UAT. Vuoso was a huge part of the 'guerreros' 2008 Clausura championship team and was the top goal-scorer in the Clausura and Apertura 2005. Later, in his career the Argentine-born striker conformed part of some big teams like Cruz Azul, Club America and even the Mexico National Team.
Vuoso was recently added to the Ascenso side and has only received 81 minutes of playing time since joining the club. Correcaminos is led by an experienced manager in Jaime Ordiales and also counts with other former Liga MX players like Pierre Ibarra, Armando Pulido, Carlos Hurtado, Ricardo Bocanegra, Sergio Rosas and Lucas Ayala.
Alfredo Moreno
'El Chango' was once one of the most prolific strikers in the Liga MX, being a main figure with Necaxa and San Luis. He played with several teams since departing San Luis, most recently with Club Tijuana in 2015. But since 2016 Moreno has been playing with Celaya in the Ascenso MX, becoming an important goal-scorer for the club. At 37-years-old 'El Chango' is nearing the end of his career, but has had a decent campaign, scoring two goals in four games.
Alberto Medina
'El Venado' was once of the biggest figures on Chivas de Guadalajara at one point in his career, being part of the famed Apertura 2006 championship team. Medina played with Chivas for over a decade making over 300 appearances with the club, and even made the Mexico National Team on several occasions. The man from Culiacan, Sinaloa, Mexico now at 33-years-old is playing with Coras FC in the Ascenso MX, being a consistent starter and having one goal so far.
Hector Mancilla
The former Chilean International was once a feared goal-scorer in the Liga MX, most notably with Toluca and Tigres UANL, even finding success with Morelia. His career did fall off since leaving 'la monarquia' playing with Chilean clubs, Dorados and even back with Tigres. Mancilla at 36-years-old is in the Liga de Ascenso with Lobos BUAP, where he is an off and on starter. Having participated in six games this season, four as a starter, and scoring one goal.
Goalkeepers
To wrap it up there are some interesting goalkeepers who were once in the spotlight in the top division of Mexican football. First off is Armando Navarrete who captains Ascenso side, Zacatepec and is an undeniable starter having played all possible minutes of this Ascenso MX campaign. The former America man has made the Liga de Ascenso his home since 2014 and is doing his best to help Zacatepec see the glory once again. Next we have one of the main figures in Tijuana Xolos' history in Cirilo Saucedo who now finds himself with FC Juarez in the Ascenso MX. Saucedo is not an undeniable starter at 35-years-old having only started three games this season.
Oddly enough he is also joined by another former Xolos player in Raul Enriquez. Last off we have what you may consider a bust, in Liborio Sanchez who now plays with Tapachula in the Ascenso MX. Liborio was a spectacular goalkeeper with Queretaro, then formed part of the famed 2012 Olympic Team for Mexico. But then never really performed after that, and now at 27-years-old he is the undeniable starter in net for Tapachula who find themselves in penultimate place in the Ascenso MX.