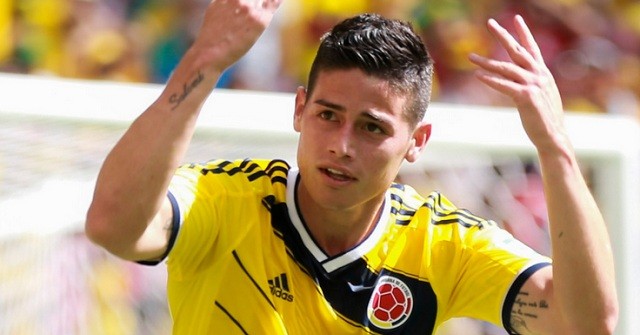 25-year old Colombian superstar midfielder, James Rodriguez, has proclaimed that he wants to remain with his current club, Real Madrid. This news is particularly disappointing for Premier League giants Chelsea and Manchester United who had both reportedly had been interested in acquiring Rodriguez.
James Rodriguez would be a massive addition for either Chelsea or Manchester United, and for a long time it seemed as if James was certain to leave Real Madrid due to his inconsistent playing time with the club. However, he scored two goals for Real Madrid in their game against Sevilla on Wednesday, and this performance could help James force his way into the starting lineup on a more consistent basis.
After the game with Sevilla Rodriguez said, "I'm where I always wanted to be. The Bernabeu chanting my name was like a dream."
"I'm staying, I'm staying."
Rodriguez's commitment to Real Madrid is disappointing news for Chelsea and Manchester United, since they will now have to look elsewhere if they want to acquire an attacking midfielder during the January transfer window.