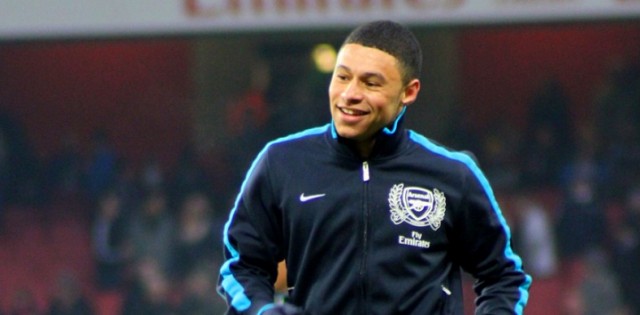 Liverpool will attempt to sign Alex Oxlade-Chamberlain from Arsenal during the winter transfer window. The Merseyside club are looking to bolster their attacking options and see Oxlade-Chamberlain as a player who would improve their depth.
Oxlade-Chamberlain currently has 18 months left on his contract but Arsene Wenger was quoted earlier in the year as wanting to extend the Englishman's stay in London. The 23-year old expressed his frustration with the limited starting opportunity he was seeing, but enjoyed an extended run in the side before injuring his hamstring last week.
He's scored six goals in 12 starts and 11 substitute appearances. Oxlade-Chamberlain's performances have been encouraging this season and he's finally been able to translate his potential into consistent, positive performances.
With 18 months left on his contract, now is the time for Liverpool to make a move as Oxlade-Chamberlain's value continues to decrease. However, the relationship between Arsenal and Liverpool, and the title challenge that both clubs are mounting will be a major stumbling block.
The aftermath of Arsenal's £40 million plus £1 bid for Luis Suarez in 2013 can still be felt and the clubs' relationship has yet to recover. Additionally, Arsenal sit three points behind second place Liverpool and will not want to strengthen a title rival, let alone weaken their strongest attacking depth since the Invincible years.
Oxlade-Chamberlain might be tempted by a move to Liverpool considering the squad competition he faces at Arsenal. Alex Iwobi, Theo Walcott, Lucas Perez, and Alexis Sanchez are all available to Wenger on the wing. The imminent return of Danny Welbeck only strengthens Arsenal's options up front.
Oxlade-Chamberlain signed for Arsenal from Southampton in 2011 for £12 million as an 18 year-old. According to the Guardian Liverpool would have to part with £20 to £25 million to even get Arsenal's attention.