Manchester United continued their hot streak when they defeated Sunderland 3-1 on Boxing Day. They will be hoping for more of the same when they match up against 15th place Middlesbrough on New Year's Eve.
Here is a look at the possible lineup.
GK- David de Gea
De Gea was forced to make some key saves in the match against Sunderland, and he was up for the task. Middlesbrough is one of the worst offensive teams in the EPL, so he may not be tested quite as much in this match.
LB- Daley Blind
Blind scored his first goal in ages against Sunderland, and while he is unlikely to score again on Saturday, he could create scoring chances for his teammates with his crossing.
CB- Marcos Rojo and Phil Jones
Rojo-Jones has been a very effective center back pairing for Manchester United in recent weeks, and this is the duo that started on Monday. Eric Bailly could sneak in one last start before he leaves for the African Cup of Nations on January 2nd, but I think Mourinho will stick with the Rojo-Jones pairing for now.
RB- Antonio Valencia
Valencia is very effective going forward, and Middlesbrough is likely to park the bus in this match. Valencia could play a key role in breaking down their defense.
CM- Ander Herrera, Michael Carrick, and Paul Pogba
Playing both Michael Carrick and Ander Herrera really allows Paul Pogba to play in a more attacking role. We saw him thrive in this formation against Sunderland, as he tallied an assist, and had three shots on target. Carrick has played well when he has started, and he has had a positive impact on Pogba, so it would make a lot of sense to keep this trio together in the midfield.
AML- Anthony Martial
Wayne Rooney is likely out with an injury, and Jesse Lingard was ineffective at this position against Sunderland. With that in mind, Anthony Martial could find his way back into the rotation for at least one game. Martial has scored two goals and has an assist in his last four appearances, so it is not as if he has been completely ineffective.
AMR- Henrikh Mkhitaryan 
Henrikh Mkhitaryan scored a goal as a sub against Sunderland, and he should be fully healthy for this game against Middlesbrough. Mkhitaryan has scored a goal in each of his last three matches, so he needs to be in the lineup assuming he is healthy.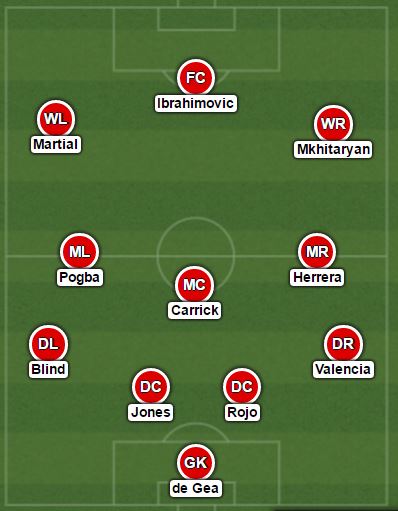 ST- Zlatan Ibrahimovic 
Zlatan has continued his fantastic form against Sunderland, scoring a goal and tallying two assists. Zlatan is one of the best strikers in the EPL, so he needs to be in the starting lineup for as many matches as he can handle.