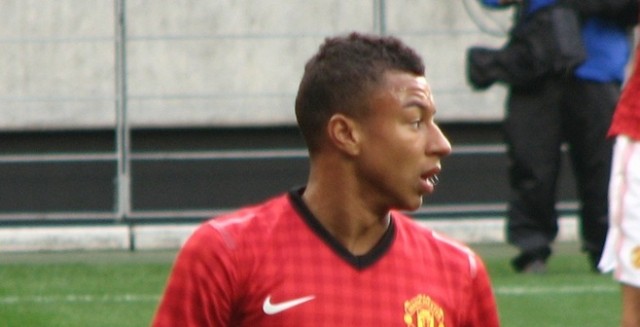 Manchester United defeated Crystal Palace on Wednesday for their third consecutive victory, and they will now look to keep their momentum going when they travel to face West Brom on Saturday.
Here is a look at the possible lineup.
GK- David de Gea
De Gea is the number one option in goal for Jose Mourinho, and although Sergio Romero has played well in limited playing time, there is really no reason to take de Gea out of the lineup.
LB- Daley Blind
Blind started and played pretty well in the game against Crystal Palace on Wednesday. With Luke Shaw's status still remaining questionable, it seems as though Blind should have a good chance to start again this weekend.
CB- Marcos Rojo and Phil Jones
Eric Bailly started at right back on Wednesday, but he left the game early due to an injury and seems to be unlikely to play this weekend. Rojo almost got a red card in the game against Palace on Wednesday, but the Rojo and Jones combination has been a steady center back pairing for the most part this season, so I expect Mourinho to stick with what has been working.
RB- Antonio Valencia
Valencia was suspended for the game against Crystal Palace, but he will be eligible to play on Saturday against West Brom. He has been one of Manchester United's best players all season long, and will surely start over Matteo Darmian this weekend.
CM- Ander Herrera and Paul Pogba
Paul Pogba had a massive game on Wednesday against Palace, scoring a goal and tallying an assist. He is a lock for the starting lineup when healthy. Ander Herrera has received a lot of praise from Jose Mourinho in recent weeks, and he will continue to find his way into the starting lineup until his form dips. Michael Carrick has also been in good form recently, but considering he is 35 years old it might be a good idea for Mourinho to give him a rest with just two days between games.
AML- Wayne Rooney
Rooney started at this position on Wednesday against Crystal Palace and did quite well. Anthony Martial is usually another candidate to start at this position, but he was not even included in the squad as a sub against Crystal Palace, so I expect Rooney to start here again on Saturday.
AMC- Juan Mata
Mata started as an attacking midfielder on the right side against Palace on Wednesday, and he did not fair too well.  However, Mata seems to be much more comfortable playing as a central attacking midfielder, so if Mourinho decides to move him to this position for the game on Saturday, then I think he will play much better.
AMR- Jesse Lingard
Henrikh Mkhitaryan is still out with an injury, so if Juan Mata moves over to the central attacking midfielder spot then Jesse Lingard figures to have a good chance to start as an attacking player on the right side.
ST- Zlatan Ibrahimovic
Zlatan continues to be in fantastic form, as he scored a game winning goal against Crystal Palace on Wednesday. He needs to be in the lineup as often as possible.
(4-2-3-1)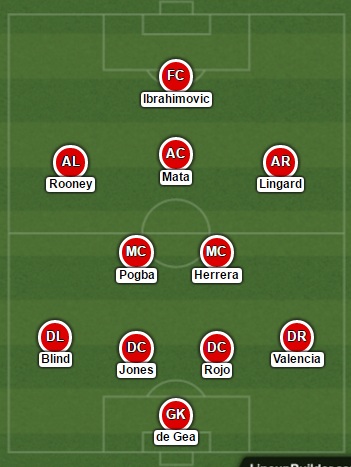 Via – Lineup Builder