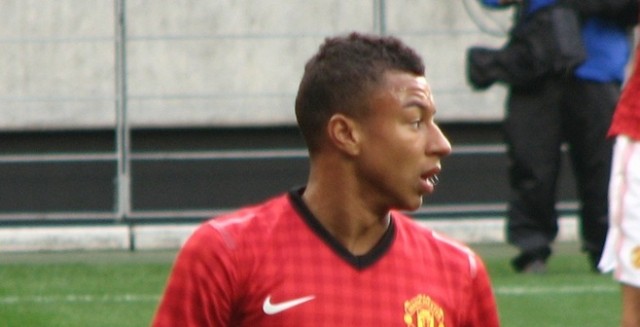 Manchester United defeated Tottenham 1-0 on Sunday at Old Trafford, and they will look to continue their good form when they face off with Crystal Palace on Wednesday.
Here is a look at the possible lineup.
GK- David de Gea
De Gea made four saves on Sunday against Tottenham en route to a shutout victory for Manchester United. He should get the start in goal once again on Wednesday.
LB- Daley Blind
With Antonio Valencia suspended and with Luke Shaw out with an injury, Manchester United are a tad thin in terms of outside backs for the game against Crystal Palace. As a result, Blind has a chance to slot into a starting role for this game.
CB- Marcos Rojo and Phil Jones
Eric Bailly has returned, and he will be the long-term solution for Manchester United at center back, but Jones and Rojo are both in great form at the moment. The Jones-Rojo duo were a key part of Manchester United's shutout victory over Tottenham, so I think Mourinho will continue to play the hot hand when he makes his lineup on Wednesday.
RB- Matteo Darmian
Antonio Valencia is suspended for the match against Crystal Palace, so he will need to be replaced in the lineup. Matteo Darmian had a strong game at left back on Sunday against Tottenham, but he will likely be asked to move over to right back for the game on Wednesday.
CM- Ander Herrera and Paul Pogba
Mourinho keeps switching between the 4-3-3 and the 4-2-3-1, but if he goes back to the 4-2-3-1 on Wednesday then I believe Herrera and Pogba will start together as the two in the central midfield. They have both been fantastic all season long, and they both played well against Tottenham on Sunday.
AML- Anthony Martial
Martial was not very good against Tottenham on Sunday, but he has been in pretty good form recently, and he is the best option for Manchester United for this position. Mourinho should let Martial play consistently, so he can regain his confidence and form.
AMC- Juan Mata
Crystal Palace will be underdogs against Manchester United on Wednesday, so they may opt for a more defensive mindset. With that in mind, Juan Mata is a perfect choice to start in this game because he has the passing and vision that is required to break down a defense.
AMR- Jesse Lingard
Henrikh Mkhitaryan has been in amazing form recently, but he is expected to miss the game on Wednesday with an ankle injury. Jesse Lingard could fill in for Mkhitaryan in this game, as he has been pretty effective as a right side attacking midfielder this season in limited playing time.
ST- Zlatan Ibrahimovic
Zlatan's scoring streak ended on Sunday, but he is still in fantastic form. He will be itching to get back on the scoring sheet again on Wednesday, and I would not be surprised if he scores a goal or two.
(4-2-3-1)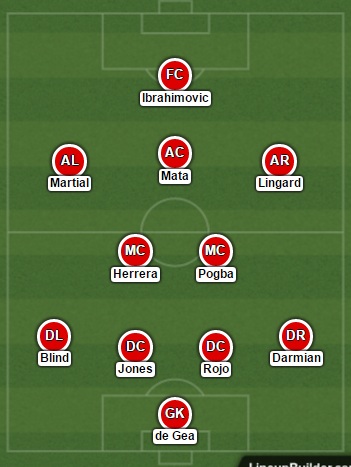 Via – Lineup Builder