Liverpool's title chances were dampened a bit last weekend when they went through a massive collapse that eventually resulted in a 4-3 loss to Bournemouth. Luckily, they have a great chance to bounce back since they face a struggling West Ham that hasn't won in the league since October and are coming off a 5-1 loss to Arsenal.
This is still a difficult stretch in the schedule for Jurgen Klopp to navigate since the team faces Middlesbrough during the week and have the Merseyside derby five days after that match. With that in mind, he might decide to make more changes than usual to his starting lineup.
Goalkeeper
Loris Karius was the scapegoat for the Reds' collapse against Bournemouth and some might feel like Simon Mignolet's slightly surer hands may be the better choice at least for the time being. Klopp has shown no indication of benching his countryman but the clock has started ticking for Karius' tenure as the number 1 'keeper.
Right-Back
Nathaniel Clyne will have the uneviable task of marking Dimitri Payet. Even if he only has one goal this season, Payet is still one of the most dangerous players in the league.
Center-Backs
Joel Matip and Dejan Lovren should reunite this weekend after Matip missed the last match with an ankle injury. Matip's leadership and take-charge mentality was sorely missed against Bournemouth and he significantly improves the Liverpool defense whenever he takes the field.
Left-Back
James Milner will also have a difficult matchup since he will be marking Michail Antonio, West Ham's top scorer.
Midfield
Adam Lallana should make a return to the lineup after coming on as a substitute last weekend. Jordan Henderson and Emre Can will likely start again especially with Can's strong form in recent weeks.
Right Wing
Sadio Mane netted another goal and he is distancing himself as Liverpool's top scorer for this season. He was still able to find acres of space even with a few changes along the attack. His speed is a game-changer for the Reds but Klopp should be finding ways to maintain the same level of attack without his star attacker.
Forward
Divock Origi scored yet again with a brilliant finish from outside the box. While he is not able to replicate the same danger that Philippe Coutinho has all over the field, Origi's pure finishing ability makes him a fantastic option for Klopp upfront.
Left Wing
Roberto Firmino was not at his best out on the wing and Klopp could decide to use another player at the top to save the Brazilian for the match against Middlesbrough. Either Lallana or Georginio Wijnaldum could be moved into this role while Klopp could also play a youngster such as Ben Woodburn or Ovie Ejaria if he wants to experiment.
(4-3-3)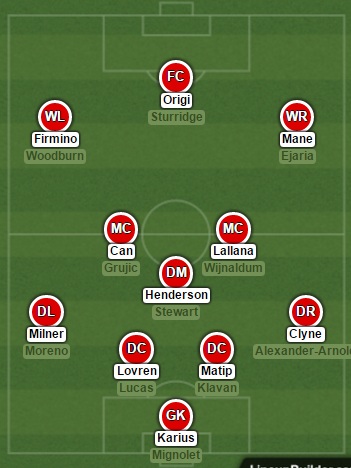 Via – Lineup Builder