Manchester United tied West Ham at Old Trafford in league play on Sunday and they will play the same fixture once again on Wednesday when they host West Ham in the League Cup Quarterfinals.
Here's a look at the possible lineup.
GK- David de Gea
De Gea is still Mourinho's number one option at goalkeeper, but Sergio Romero has gotten a fairly good amount of playing time in cup matches. Romero has played well when given the chance, so I think he could get another shot to start in this match.
LB- Daley Blind
Matteo Darmian has gotten some opportunities to play this position recently, but quite frankly Daley Blind and Luke Shaw both appear to be better options to start at this position. I think Mourinho will go with Blind for Wednesday's game against West Ham.
CB- Marcos Rojo and Phil Jones
Rojo and Jones have been starting together a lot recently due to Manchester United's injuries at center back, and they have played well. They should get the opportunity to continue playing together until their form drops.
RB- Antonio Valencia
I could see Valencia getting rotated out of the squad to get him some rest, but he is so important to this team that I think Mourinho will give him the start. The League Cup might be Manchester United's best chance to win a trophy this season, so Mourinho might as well put his best team out there.
CM- Ander Herrera and Paul Pogba
This duo has played fantastic this season, and they started together as center midfielders against West Ham on Sunday. Herrera provides a great defensive contribution, which should allow Pogba to provide a little bit of support on the offensive side, even if he does not play as an attacking midfielder.
AML- Wayne Rooney
Manchester United have continued to try to force Marcus Rashford to play as an outside attacking midfielder, but it is clear that this is not his natural role. Rooney has played pretty well recently with 2 goals and 3 assists in his last 3 starts, so I think he deserves the chance to start on Wednesday.
AMC- Juan Mata
Mata is an extremely creative player who is very effective at creating goal scoring chances for his teammates as well as converting chances himself. His defensive contribution is always questioned, but he is good enough offensively that he deserves to start.
AMR- Henrikh Mkhitaryan
I am a fan of Mkhitaryan and I think he is a very talented player, so I may be overly optimistic here, but I think he may finally be breaking his way into the squad. He started and played fairly well against Feyenoord last Thursday, and he came off the bench and played 25 minutes against West Ham on Sunday. He deserves a consistent run of games, so he can finally prove himself to Mourinho.
ST- Zlatan Ibrahimovic
Zlatan scored again on Sunday, which now gives him 3 goals and an assist in his last 3 games. He is on a good run of form, so he should be out there again on Wednesday unless something unforeseen occurs before the game.
(4-2-3-1)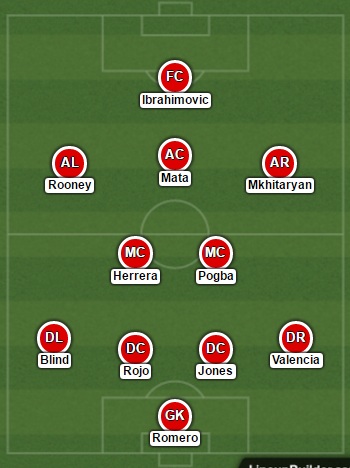 Via – Lineup Builder