Premier League leaders Chelsea face Tottenham Hotspur at Stamford Bridge on Saturday in search for their seventh straight win in the league.
Antonio Conte's men are in sensational form, having scored 17 goals in their last 7 league games without conceding any.
The hosts are rightfully regarded as heavy favorites for the three points on Saturday, but will have to be concentrated as the visitors will surely be looking to bounce back from their disappointing Champions League exit on Tuesday.
Given Chelsea's spectacular form in recent weeks, Conte is unlikely to make any changes to his starting eleven.
Goalkeeper: Thibaut Courtois
The Belgium international is in fantastic form and hasn't conceded a single Premier League goal since Chelsea's 3-0 loss at Arsenal two months ago.
Central defenders: Gary Cahill, David Luiz and Cesar Azpilicueta
Conte's preferred defensive trio in the highly successful 3-4-3 formation would have to be on the top of their games, as they'd be up against Harry Kane. The England international has scored 7 goals in his last 8 games, so Chelsea's defenders would have to be very careful in their positioning.
Right wing-back: Victor Moses
Moses didn't have his best game against Middlesbrough last weekend, but is still one of Conte's most important players. He does a great amount of work on the right wing, which allows Pedro Rodriguez to have attacking freedom.
Central midfielders: N'Golo Kante and Nemanja Matic
The hard-working pair is Antonio Conte's preferred midfield partnership. Kante and Matic are currently irreplaceable in Chelsea's starting eleven and their role would once again be crucial as they'd have to neutralize Christian Eriksen's creativity on Saturday afternoon.
Left wing-back: Marcos Alonso
The former Fiorentina defender has now cemented his place in Conte's starting eleven and is proving to be a fantastic signing for the Blues.
Right winger: Pedro Rodriguez
Conte has given a chance to Pedro to show what he's capable of and the former Barcelona winger is making the most out of it. The 29-year-old has started Chelsea's last five league games, scoring 2 goals and providing 4 assists.
Left winger: Eden Hazard
The 25-year-old world-class winger has been one of Chelsea's best players this season, scoring 7 goals in 12 league games so far.
Striker: Diego Costa
Costa once again proved that he's the best striker in the league right now with his first-half winner at Middlesbrough last weekend. The Spaniard has scored 10 goals in 12 league games so far and is currently the league's top goalscorer.
Formation: 3-4-3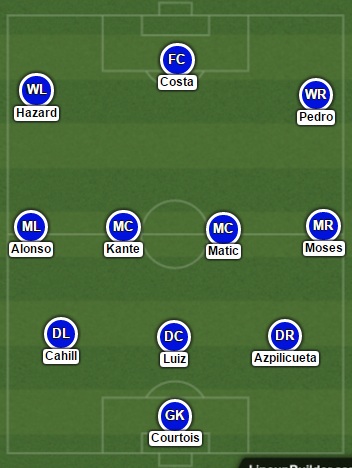 Via – Lineup Builder