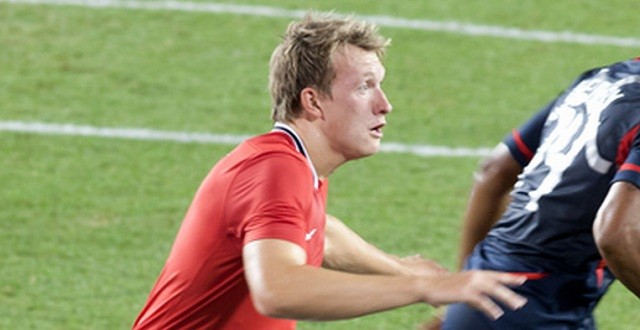 Manchester United centre-back Phil Jones has expressed his relief at returning to action for the Red Devils after a long period on the sidelines.
The 24-year-old made his return at the Liberty Stadium at the beginning of the month and did enough to keep his place in Mourinho's starting eleven against Arsenal on Saturday.
Jones has also admitted he's happy to be playing for United again after recovering both physically and mentally from his persisting injury troubles.
"It was great, personally, for me. I really enjoyed it and it has been a difficult period for me, so it was nice to have back to back games against Swansea and Arsenal. It is good to be back in the fold and playing again," Jones is quotes as saying by the Manchester Evening News.
"It is awful being injured, but as a footballer you can't feel sorry for yourself, go into a little hole and never come out of your home. You have got to go about your day as you would normally, work hard in training and I have worked to get back to where I am now. I want to stay here and I want to play more games.
"I have worked hard on my fitness, it has been tough mentally for me and it has been so frustrating. I can't put into words how frustrating it has been, but that is behind me and I want to move forward to play as many games as I can."
The former Blackburn Rovers defender has gone on to reveal why he hadn't returned sooner, saying he needs to take care of himself in order to avoid further complications.
"I wanted to make sure that I was 100% right going into the first game. I was fit for a good few weeks before the Swansea game with training, and it was the training that I needed, but you can never replicate the game," Jones added.
"Training and games are two different things. The Premier League is quick and sharp these days. It is games that I need and hopefully I can keep getting them.
"I am ready to play, but I think I have also got to look after myself as well and think right. If I do feel something, then I am honest. But I am ready, I am fit and ready to play.
"I am just as hungry as anyone else. I want to play, I want to fight for this club and I will do that until somebody tells me to stop."
Given United's injury problems in defense, Jones' path towards the starting line-up was shorter than usual, but the defender has played down the claims that it's easier to perform when you know your direct competition is out of action.
"Of course it is an opportunity, but I can't keep thinking it is an opportunity, and now this is an opportunity, because sometimes that can play on your mind," Jones said.
"I am just focusing on game to game, playing football, doing what I love doing and I will go from there."
Jones' return is a welcome boost for Jose Mourinho and the defender's solid performances in the last two games is a further indication that he can be relied upon.