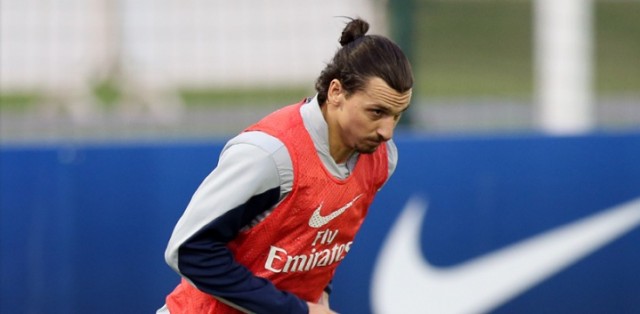 Manchester United are coming off a strong performance against Arsenal, although a late goal from Olivier Giroud prevented them from getting a full three points from the match.  Now they will have to shift their attention to the a very important Europa League game on Thursday at home against Feyenoord.
Manchester United are currently in third place in their group with only two games remaining in the group stage, so I expect Mourinho to pick his strongest possible lineup for this match with minimal squad rotation.
GK- David de Gea
De Gea is the obvious #1 option in goal for Manchester United, and since Jose Mourinho's side are desperate for a win on Thursday, I would expect to see de Gea start in goal.
LB- Daley Blind
Matteo Darmian started at left back against Arsenal, but he did not play great. Daley Blind has been very good at left back this season, and he is capable of providing good service for his attacking players when he starts at this position.
CB- Marcos Rojo and Phil Jones
Rojo and Jones have started together for each of the past two league games, and they have played fairly well together. Smalling and Bailly are still out with injuries, so this duo could very well be the best option for Manchester United for the next few weeks.
RB- Antonio Valencia
Valencia just returned from injury against Arsenal so fitness could still be a bit of a concern for a midweek fixture. However, assuming he is fit, Valencia needs to start this match for Manchester United as he is by far their best option at right back.
CM- Ander Herrera and Michael Carrick
Herrera is having a phenomenal season so far, and he is a must start in any important matches. With Marouane Fellaini out with an injury, it would make sense for Michael Carrick to get another start in the central midfield. Carrick is not the player he once was earlier in his career, but starting him will allow Paul Pogba to play in a more attacking role.
AML- Wayne Rooney
Rooney has taken a lot of criticism this season for his play, but he has been much better in Europa League than he has been in league games. Starting him against Feyenoord would be putting him in a position to succeed and it could help boost his confidence moving forward.
AMC- Paul Pogba
Pogba could play in a more attacking role on Thursday, if both Herrera and Carrick start as central defensive midfielders. This could be good news for Pogba, as it will allow him more freedom to get forward.
AMR- Juan Mata
Mata scored the lone Manchester United goal against Arsenal on Saturday, and he is arguably the team's most effective attacking player so far this season. As long as he is playing this well, he should be starting almost every game as an attacking midfielder.
ST- Zlatan Ibrahimovic
Zlatan has not played in over two weeks due to the international break and then his suspension against Arsenal, but he should be back in the lineup for this game. The last time he did play, he scored two goals against Swansea.
(4-2-3-1)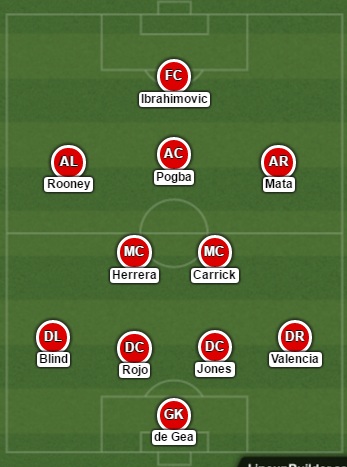 Via – Lineup Builder