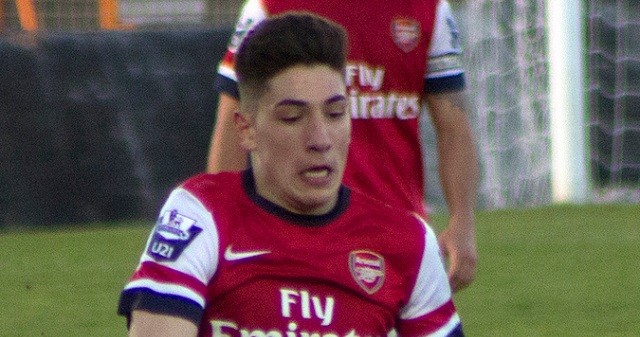 Arsenal have tied up Hector Bellerin to a long-term contract. The 21-year old joined the club at age 16 from Barcelona and come through the ranks to become an integral part of the senior team.
Arsenal's official report omitted the length of the deal, but it is believe to be for approximately six-and-a-half years for £120,000 per week.
That's right – @HectorBellerin has signed a new @Arsenal contract https://t.co/5WBr6sTk4C

— Arsenal FC (@Arsenal) November 21, 2016
Speaking to the Arsenal website, Bellerin confirmed his future was never in doubt after being linked to Barcelona and Manchester City the past few months.
"I'm really happy. I've been here a long time and feel like this is my home, so I'm very happy to still be a Gunner for many more years. This is a really big day for me."
Arsene Wenger was full of praise for Bellerin, complimenting his development as a complete player and praising his loyalty to the club.
"He's developed very well his defensive qualities and he is more offensive and much more decisive in his offensive game. His physical potential is absolutely huge, not only is he quick but he can repeat. He can put the volume and the intensity into his game and you do not meet that often in your career.
"He has a fantastic mentality and Arsenal has been fantastic for Hector as well because he went through some difficult moments in his career and we kept always faith in him. On that front, Hector was loyal and envisages his career here and I think it's a fantastic move for Hector and for the club. Both are winners in this deal."
Bellerin's teammate, Petr Cech, was equally effusive in his praise, claiming the Spaniard could become on of the world's best right backs.
"He can compete to be one of the best right backs in the world, because he has all these abilities. If he keeps working in the same way he's been working, there is still room for improvement in his game with a bit more experience and more games under his belt. He can go really far."
Bellerin made 44 appearances and created nine goals for his teammates last season. He is currently sidelined with an ankle injury and is expected to be available again at the end of December.
Arsenal will now turn their attentions towards extending the contracts of Mesut Özil and Alexis Sanchez.