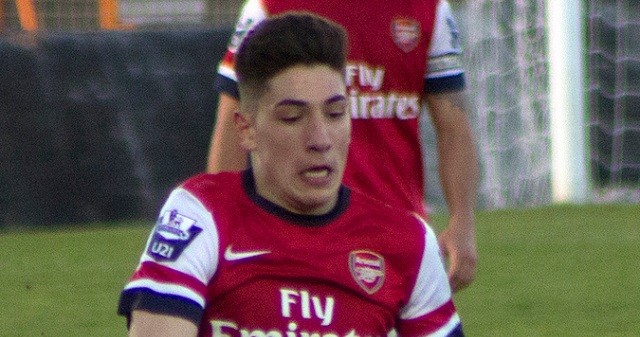 The North London Derby is upon as Arsenal take on Tottenham at the Emirates on Sunday.
The two are in vastly opposite patches of form with Arsenal having not lost since August and Tottenham failing to win in their last six matches.
Arsenal welcome back Theo Walcott, Nacho Monreal, and Hector Bellerin to the squad – all of who have missed time the past two weeks. Unfortunately, it appears Santi Cazorla will miss out with the Achilles injury that's been bothering him the past two weeks. The Spaniard is set for a late fitness test but Arsene Wenger did not seem optimistic.
The manager will have some interesting choices to make, especially in midfield. Wenger will also have to decide whether to start Olivier Giroud and Aaron Ramsey, both whom made their first starts for the club since early in the season.
Arsenal seem to have the upper hand considering Tottenham's form, but this is a derby and form goes out the window with the added motivation such a match brings. Tottenham will also welcome back Harry Kane, who has tormented Arsenal in the past.
Here is Arsenal's most probably starting lineup on Sunday.
Goalkeeper – Cech
Petr Cech starts in goal and replaces David Ospina, who started for Arsenal midweek. Cech will look to add to his four clean sheets against a misfiring Tottenham squad.
Right Back – Bellerin
Hector Bellerin returns to the squad after missing Tuesday's match with an unspecified, but minor, injury. Bellerin's absence was clear midweek as Arsenal lacked width often provided by the Spaniard on the right. That should change with both him and Walcott back in the squad.
Center Backs – Mustafi & Koscielny
Shkodran Mustafi and Laurent Koscielny start. Their credentials as the Premier League's emerging best center back duo will be tested against Kane who looks set to start for the first time since mid September.
It might be early days for Kane, who just returned to fitness, but considering Tottenham's poor run lately, they'll need him. Regardless of fitness, he still posses an immense threat and Koscielny and Mustafi have to pay special attention to him.
Left Back – Monreal
Monreal returns to the first team after missing the past two weeks. Although Monreal still faces a fitness test, Kieran Gibbs picked up an injury problem as well, and the Spaniard seems closer to full fitness right now.
Defensive Mid – Coquelin
Francis Coquelin gets the start. This isn't surprising as he is the first choice defensive mid. He'll be looking to break Tottenham's counters coming through Christian Erikson, Dele Alli, and Son Hueng-min.
Central Mid – Elneny
Arsene Wenger will have a tough choice to make at center mid. It's clear that Coquelin will start, but it's not obvious who will partner him.
Cazorla would be the ideal choice but he hasn't been cleared to play yet and is undergoing a last minute fitness test. Granit Xhaka is also an option, but Wenger expressed concern over Xhaka's discipline in a tense derby match like the North London Derby. He seems like a better candidate to come on in the last 20 to 30 minutes. This match also comes to early for Ramsey who isn't ready for the intensity of the derby in terms of fitness.
That leaves Mohamed Elneny, the Egyptian midfielder who has played well lately. Elneny is the obvious choice if Cazorla can't play, and ultimately, considering the Spaniards fitness issues, Elneny will get the nod.
Attacking Mid – Özil
Mesut Özil starts, of course. With seven goals to his name already, Özil has become a dual threat player. Wenger put that down to Özil's desire to be efficient. The manager also challenged his German playmaker to put pen to paper and become an Arsenal legend in the same vein as Dennis Bergkamp.
Wide Right – Walcott
Walcott returns to the first team after missing the past two weeks with a hamstring injury. He too faces a late fitness test, but his participation in training was encouraging. With eight goals to his name, Walcott is in fine form and will look to reintegrate into the squad seamlessly.
Alex Oxlade-Chamberlain and Ramsey are both options in this position of Walcott isn't fit in time.
Wide Left – Alex Iwobi
Alex Iwobi returns to the first team squad after sitting out Tuesday's match. Iwobi has performed well this season but his last few appearances have been below the level of what we saw earlier this year. That's not to see he has played poorly, it's merely a reminder that he is a young player and he's due a rough patch here and there.
Iwobi has been part of winning lineups and has good chemistry with Alexis and Özil up front. The manager may look to protect Iwobi if he indeed is hitting a rough patch, but it's not worth tinkering with a winning lineup just yet.
Striker – Alexis
Alexis starts at striker, moving back to the center of the pitch after starting on the Tuesday. That means Giroud is relegated to the bench despite scoring three in two matches.
Like Ramsey, the intensity of the match might be too soon for Giroud who has just returned to fitness, despite the fact that he is a physical player. That physicality could be useful later in the match and his role could be similar to that of Xhaka's.
(4-2-3-1)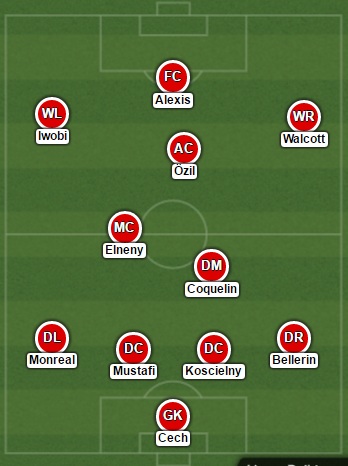 Via – Lineup Builder