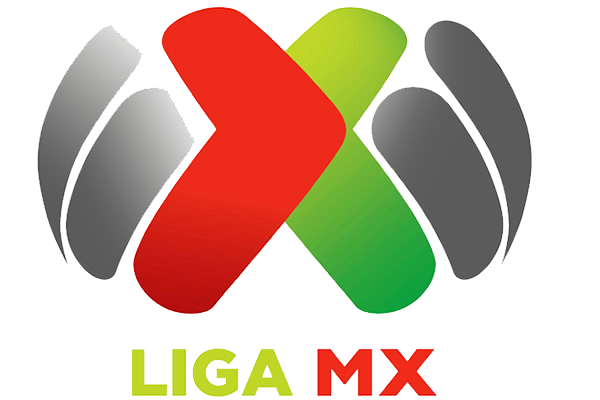 For the first time in what seems like months, América had no midweek match.  Las Aguilas of course had to watch the Copa MX final from their television sets after their loss to Chivas in the semifinals a week ago.
But, cheer up Americanistas, because now América can focus solely on winning the all-important league title in their centennial season.  The road to glory continues Saturday night against Atlas at Estadio Jalisco.  Here are the eleven players you can expect to see out on the field for América when the first whistle blows.
Formation: 4-4-2
Goalkeeper: Moisés Muñóz
Muñóz remains the go-to guy for Las Aguilas, but he can only do so much to make up for América's vulnerable defense.
Left Back: Miguel Samudio

Samudio is finally set to return from injury.  The Paraguayan should be a big boost to what has been a poor América defense this clausura.
Center Backs: Paolo Goltz and Pablo Aguilar

These two will be back at it again on Saturday, desperately trying to improve upon the club's miserable defensive record.  How can a team with such solid defensive players concede so many goals?  Aguilar has been capped 28 times for Paraguay, and Goltz is no scrub, either.
Right Back: Edson Álvarez

Álvarez had a solid debut for América last week, and you can expect to see him again on Saturday.  América isn't known for bringing up high-level Mexican talent from their youth team, but Álvarez looks like he could be just that.
Left Midfielder: Rubens Sambueza

Rubens has been one of the players for América this year that has always been able to get things done.  He can move the ball, shoot, dribble, play both sides of the field, etc.  If Las Aguilas need Sambueza to do something he goes out on the field and does it, no matter what the task is.
Center Midfielders: José Guerrero and Osvaldo Martínez

For a team that consistently starts two central midfielders that are not true scoring threats, it is somewhat amazing that Las Aguilas score as often as they do.  Guerrero and Martínez form a strong duo in the center of the field, but by no means can you call Guerrero an offensive threat.  Martínez does get the occasional goal, but he has never had more than 3 in a season during his time at América.
Right Midfielder: Renato Ibarra

Renato has played sporadically for América this season, but when given proper minutes has performed respectfully.  Ibarra can be described as "explosive" down the right side, and is definitely capable of having a moment of brilliance and creating a goal all by himself.
Strikers: Oribe Peralta and Michael Arroyo

Peralta came off the bench last week, but Ricardo La Volpe will likely call upon his firepower from the start this time around, as Atlas have been defensively sound (only 6 goals against) at home this season.  Arroyo has been too good lately to not play.  He was voted América's player of the month for October by the fans.
(4-4-2)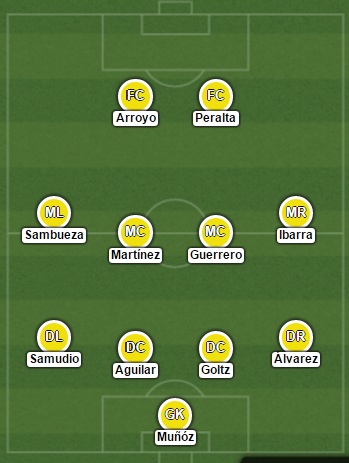 Via – Lineup Builder