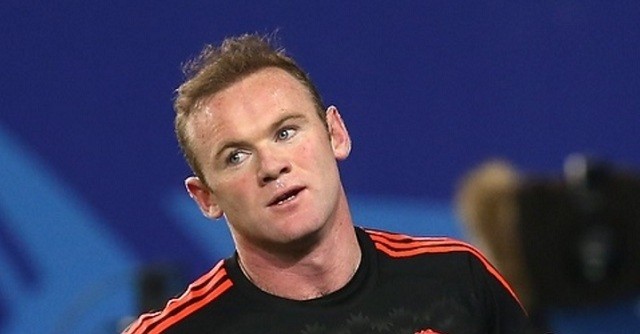 Manchester United have struggled a little bit in league games of late, but on Thursday they will get a chance to get back on track in a Europa League group stage match away to Fenerbahce. Manchester United defeated Fenerbahce in the home fixture 4-1 a few weeks ago.
GK- David de Gea
De Gea is the best option for Manchester United in the goal, and he earned the shutout against Burnley over the weekend.
LB- Luke Shaw
Luke Shaw has played fairly well recently, and considering all of the injuries to the Manchester United defense, it seems like Luke Shaw should have a pretty good chance to start on Thursday.
CB- Daley Blind and Marcos Rojo
Rojo and Blind have started at center back together for each of the past two matches, and Manchester United has gotten shutouts in each game. I think Jose Mourinho will continue to play this duo together until it stops working.
RB- Timothy Fosu-Mensah
Unfortunately, Antonio Valencia will be out for a few weeks with an injury, so Timothy Fosu-Mensah may have to step up and start at right back. Matteo Darmian is another candidate to start if Mourinho is not confident enough in the young Fosu-Mensah.
CM- Paul Pogba and Michael Carrick
Pogba had a very good game against Burnley, and he is going to start almost every match of importance for Manchester United this season. In the last game against Fenerbahce, Mourinho started Michael Carrick alongside Paul Pogba, and it seemed to work well. I think Mourinho could go back to that midfield pairing once again for the second match against Fenerbahce.
AML- Marcus Rashford
Rashford has been getting a lot of playing time as an outside attacking midfielder, and with Anthony Martial still possibly out due to injury, it seems like Rashford is a good candidate to start at this position once again.
AMC- Juan Mata 
Mata provided a great offensive spark on Saturday against Burnley, as he recorded a very impressive 8 key passes. With Manchester United struggling to score goals recently, it could behoove Jose Mourinho to put Juan Mata in the lineup due to his offensive abilities.
AMR- Jesse Lingard
Henrikh Mkhitaryan still can't seem to break his way into the lineup for whatever reason, so it seems like Jesse Lingard is the likely option to start on Thursday.
ST- Wayne Rooney
Zlatan has struggled to score goals recently, and he could possibly use some rest ahead of a league match over the weekend. Rooney is not the player he used to be, but he is still capable of being effective up top for Manchester United.
(4-2-3-1)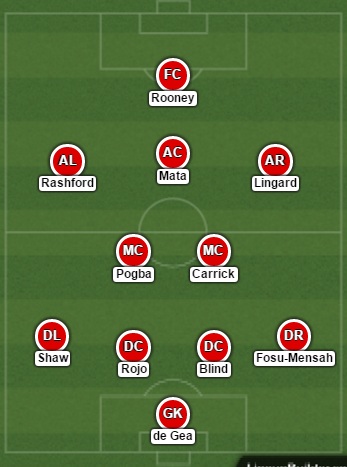 Via – Lineup Builder