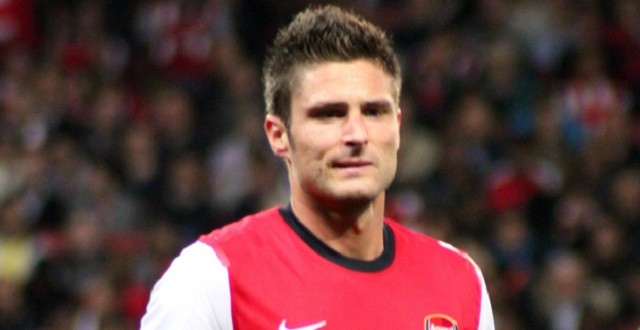 Arsenal travel to Bulgaria where they'll face Ludogorets Razgard on Tuesday. This is the Gunners' fourth Champions League group stage match and a win would put them in a position to qualify easily.
Arsenal are coming off a quick turnaround having played Saturday. They came away 4-1 winners against Sunderland thanks to braces from Alexis and Olivier Giroud. With only two days rest and Tottenham coming up this weekend, Arsene Wenger is likely to rotate his squad.
Here is Arsenal's most probable starting lineup on Tuesday.
Goalkeeper – Ospina
David Ospina comes back into the squad for what are now regular Champions League appearances for the Columbian international.
Right Back – Bellerin
Hector Bellerin starts despite the availability of Carl Jenkinson. Tuesday's match comes just too soon for Jenkinson, despite making a full return to the first team a week ago.
Center Backs – Koscielny & Mustafi
Laurent Koscielny and Shkodran Mustafi start. This match shouldn't be taken for granted. Arsenal needs the three points and you'd expect the atmosphere to be somewhat hostile. Replacing Koscielny and Mustafi with Rob Holding and Gabriel may be too risky, even though they have the quality needed. Rotating too much could be detrimental.
Left Back – Gibbs
Wenger has yet to release his team news so Nacho Monreal's availability is unknown. Monreal was dealing with some muscle tightness and missed this past weekend's match. Kieran Gibbs played well in his absence and will likely be called upon again.
Defensive Mid – Xhaka
Granit Xhaka returns from a three-match ban and comes in to replace Francis Coquelin. Coquelin is likely the first choice defensive mid right now and will be rested ahead of the Tottenham match.
Central Mid – Elneny
Mohamed Elneny starts, despite Aaron Ramsey's return to fitness. Elneny played well over the weekend. He kept the midfield ticking with smart passing and movement. He was much better getting the ball between the lines, something that he failed to do against Middlesbrough the weekend before.
Although Ramsey came off the bench for his first appearance since August, he isn't fit enough to start quite yet. Expect him to come off the bench again on Tuesday and maybe contend for a starting spot on Saturday.
Attacking Mid – Özil
Mesut Özil starts. With Alexis likely to be rested, and Theo Walcott and Santi Cazorla missing through injury, it may be too risky to sit Özil for this one.
Wide Right – Oxlade-Chamberlain
Alex Oxlade-Chamberlain starts with Walcott likely missing out again thanks to a minor hamstring injury. Walcott has been in good form, so it makes sense to give him more time to recover for the Tottenham match. Oxlade-Chamberlain has played well the past two weeks and you'd expect him to continue that form on Tuesday.
Wide Left – Iwobi
Alex Iwobi gets another start on the left wing. This seems like a game that Giroud would start, which means Alexis either sits or starts on the left. With Alexis likely to be rested, Iwobi starts.
Striker – Giroud
Giroud is fit enough to start now, and considering his performance on Saturday; you'd think he gets the start upfront. That means Alexis either sits or is moved out left. It wouldn't be surprising to see Alexis start considering his known desire to play every single match. But Wenger has shown discipline when dealing with Alexis' minutes and will use this match to rest his Chilean star.
(4-2-3-1)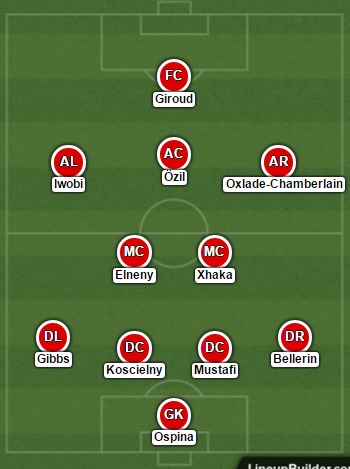 Via – Lineup Builder