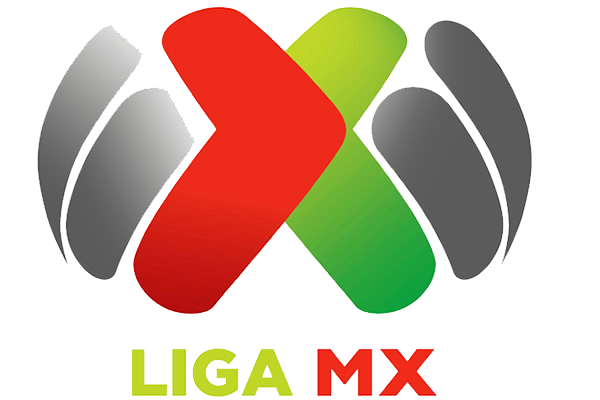 América is a club with very high expectations.  They consider themselves Mexico's biggest team, and it's hard to argue against them.  Thus, it is only natural that despite América being comfortably in playoff position, the fans are not satisfied.
Things only got worse following a crushing loss to arch-rivals Chivas in the Copa MX semifinal on Wednesday.  América will look to rebound against bottom-feeders Santos Laguna on Saturday night.  Here are the eleven players you can expect to see out there for Las Aguilas:
Goalkeeper: Moisés Muñóz
Muñóz remains the #1 for Las Aguilas, and will be looking for just his third clean sheet of the year.
Left Back: Osmar Mares
Mares is one of many América players who appeared in the Copa MX clash this week.  He will likely be back in action on Saturday vs Santos.
Center Backs: Pablo Aguilar, Paolo Goltz, Bruno Valdéz
América have adopted the five-man defense, utilizing three center-backs in their past several matches.  This trio all played in the Copa MX semifinal, but there are only so many options for a club that is in dire need of a victory.
Right Back: Gil Burón
Burón rounds out the defensive unit that played against Chivas (though he only played 45 minutes) and has seemingly made the breakthrough into a regular first team spot.
Left Midfielder: Rubens Sambueza
Sambueza's ability to play anywhere in the midfield will once again be of benefit to Las Aguilas, and the captain will likely get the start on the left side this week despite his recent appearances on the right.
Central Midfielders: Osvaldo Martínez and William Da Silva
Martínez was one of the few América mainstays who didn't get the start against Chivas, so there is no doubt he will be back in the lineup on Saturday.  Da Silva played most of the game on Wednesday, but that shouldn't be enough to keep him out of a starting spot.
Right Midfielder: Renato Ibarra
Ibarra will likely start by virtue of Michael Arroyo playing heavy minutes the past two games.  Since it is unlikely that Sambueza will be given a day off, Arroyo will have to sit out in order to make room for a (mostly) fresh Renato Ibarra.
Striker: Silvio Romero
América have had middling success when playing a lone striker this year, but have utilized Romero up front by himself in the past.  Ricardo La Volpe has also not hesitated to rest Oribe Peralta when he deems it necessary.  Romero did not play in the Copa MX semifinal and therefore is the logical choice to start up front against Santos.
(5-4-1)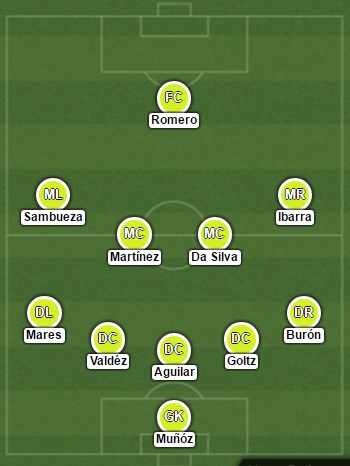 Via – Lineup Builder