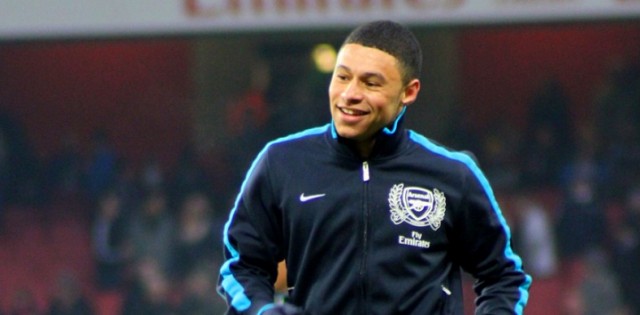 Arsenal travel north where they'll face Sunderland at the Stadium of Light. David Moyes, who replaced Sam Allardyce as Sunderland manager this summer, is under pressure and in need of a win. Arsenal look to take advantage of that pressure and a win would put the North London club alone at the top of the table for at least a few hours.
Arsenal may have to do it without three key starters, though. Santi Cazorla, Theo Walcott, and Nacho Monreal all underwent fitness tests Friday, and their statuses are still unclear. Cazorla is dealing with an Achilles issue, Walcott has a minor hamstring injury, and Monreal has muscle tightness.
Lucas Perez will also be missing after suffering ankle ligament damage in a heavy challenge against Reading on Tuesday. The Spanish striker will miss between six to eight weeks, something Arsene Wenger lamented as his new signing was just beginning to make an impact in the first team.
Luckily, Olivier Giroud has been declared fit to play, which provides Arsenal a different type of striker to Alexis off the bench. Aaron Ramsey is back in full training, as well, and is likely to feature on the bench.
Here is Arsenal's most probable starting lineup against Sunderland on Saturday.
 Goalkeeper – Cech
Petr Cech starts in goal. Emiliano Martinez's performance on Tuesday highlighted the depth Arsenal have at keeper. With David Ospina and Martinez waiting in the wings behind Cech, competition is strong, which can only be good for the club.
Right Back – Bellerin
Hector Bellerin starts at right back. The return of Carl Jenkinson on Tuesday was encouraging but Bellerin is in firm control of the right back position. Jenkinson has a lot of work to do to get ahead of Bellerin in the pecking order, but in the mean time, he provides Arsenal with great depth at this position.
Center Backs – Mustafi & Koscielny
Shkodran Mustafi and Laurent Koscielny start. Based off their performances and the performances of Gabriel and Rob Holding on Tuesday, the starting duo doesn't have much to worry about. Holding was excellent on Tuesday and when Wenger has to rotate here, it will be interesting to find out who his third choice center back is in his mind. Per Mertesacker is quickly becoming an after thought while he returns from a knee injury.
Left Back – Gibbs
Considering the way Kieran Gibbs has played the past week, the nature of Monreal's injury, and Arsenal packed schedule the next two weeks, it seems unwise to risk Monreal on Saturday. Gibbs would be a starter for most Premier League teams and although he isn't as defensively sound as Monreal, he is a reliable player.
Defensive Mid – Coquelin
Francis Coquelin starts again with Granit Xhaka suspended for his third, and last, game. The manager will have an interesting selection to make when Xhaka becomes available again. It's thought that Ramsey and Xhaka are the manager's ideal pairing, and with both available soon, will Cazorla and Coquelin remain starters?
Central Mid – Elneny
Mohamed Elneny will start and Cazorla will miss his third game with an Achilles injury. The nature of and his history with Achilles injuries make it unlikely that Cazorla would be risked on Saturday. Arsenal miss his ability to get out of tight spaces and playing the ball through the lines, but it's important to keep the bigger picture in mind. Theoretically, this lineup should be strong enough to beat Sunderland and Cazorla is needed for the entire season.
Even though Ramsey is back, Wenger made it a point to say it was too early for the Welshman to start. He will come off the bench in all likelihood.
Attacking Mid – Özil
Mesut Özil starts at the No10. The German playmaker struggled last weekend against Middlesbrough and he looked a tired. A week off means we should see a sharp Özil this weekend.
Wide Right – Oxlade-Chamberlain
Alex Oxlade-Chamberlain starts in place of the injured Walcott. It seems silly to risk a player with a hamstring injury, especially a player like Walcott who uses his quick burst and blistering speed throughout the match. Oxlade-Chamberlain has looked good the past two games, bagging two goals on Tuesday, and he deserves a chance in the first team this weekend.
Wide Left – Iwobi
Alex Iwobi starts on the left. He played as the No10 on Tuesday but moves back out wide with Özil in the squad. Wenger praised Iwobi for having the potential to be a complete player, but challenged him to add finishing to his skillset.
Striker – Alexis
Alexis starts on Tuesday and Giroud finds himself on the bench. Wenger admitted he was considering playing both, which would push Alexis to the left and either Iwobi or Oxlade-Chamberlain to the bench. But considering Alexis' form, and the free-scoring manner in which the team is playing, it would be out of character to change the winning lineup.
Giroud has been a good player off the bench throughout his career, and the ability to bring him on later in matches allows Wenger to change the Arsenal's tactics. That option was sorely lacking last weekend against Middlesbrough and Giroud will have to be content with that role for now.
(4-3-2-1)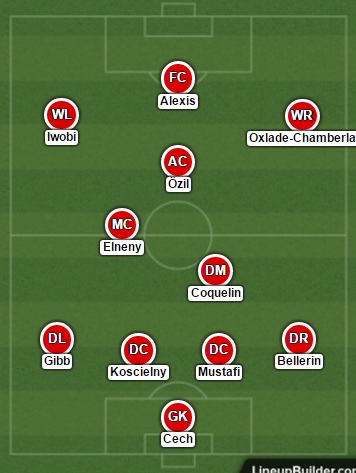 Via – Lineup Builder