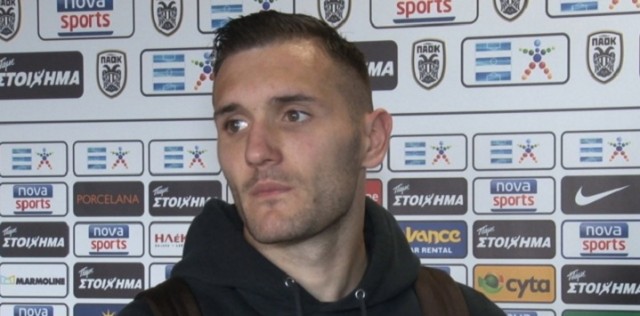 Arsenal take on Reading in the fourth round of the League Cup on Tuesday. Arsenal beat Hull City 3-1 to advance to this stage.
Arsene Wenger has never won the League Cup, one of the few omissions from his resume. This domestic cup has rarely been a priority, and that won't change this season, but a run in the competition is good for the squad as it allows youngsters and others on the fringe of the starting eleven some valuable game time.
The last time Arsenal took on Reading in the League Cup, the Gunners came out 7-5 winners. That was in 2012, and Arsenal started the match poorly. They came back tying the game at five a piece and forcing extra time. The London outfit scored twice and completed one the most improbable of comebacks.
Wenger revealed some team news ahead of the match. Aaron Ramsey will not participate but Olivier Giroud is likely to be fit. The Frenchman won't start considering his lack of match fitness and the form of Lucas Perez. However, you can bet he'll come off the bench in the 2nd half. We may also see Carl Jenkinson on the bench, as well as some youngster's like Krystian Bielik and Chris Willock.
Here is Arsenal's most probable starting eleven on Tuesday.
Goalkeeper – Martinez
Emiliano Martinez gets his second start of the season. Martinez is a talented young keeper who could easily be a number 2 elsewhere. The fact that David Ospina is not playing in League Cup matches speaks to the depth that Arsenal have at keeper.
Right Back – Maitland-Niles
Ainsley Maitland-Niles starts at right back. Jenkinson is not match fit yet and therefore not ready to start. Although he's played in midfield most of his young career, Maitland-Niles was excellent at right back in Arsenal third round win against Hull. There's a chance he could push Jenkinson for the backup spot, depending on how both progress in training the next few months.
Center Back – Gabriel & Holding
Gabriel and Rob Holding start at center back. Neither has seen much action this season, although Holding had a good run of three starts at the beginning of the season. It's games like this where Gabriel and Holding have to show themselves, as their opportunities will be few and far between as long as Laurent Koscielny and Shkodran Mustafi's form keeps up.
Left Back – Gibbs
Kieran Gibbs starts. Gibbs played last week in Arsenal's Champions League matchup and did well. Like the center backs in this match, Gibbs needs to take advantage of his chances.
Defensive Mid – Coquelin
Francis Coquelin starts, as Arsenal's defensive midfield options are limited. With Santi Cazorla, Aaron Ramsey, and Granit Xhaka missing out, Wenger will continue the midfield pairing of Coquelin and Mohamed Elneny. This is an opportunity for the two to solidify their partnership as they struggled together over the weekend.
Central Mid – Elneny
Elneny starts along Coquelin. The two lacked creativity last time out, and constantly moved the ball side to side. The responsibility lies on Elneny to infuse more creativity, as Coquelin is not that type of player. The Egyptian international is capable of that, and it's as simple as taking more risks by passing the ball through the lines more often.
Attacking Mid – Reine-Adelaide
Jeff Reine-Adelaide starts as Arsenal's number 10. The French youngster is one of Arsenal's most promising and exciting youth prospects and there are high hopes for him. This is a good opportunity for Reine-Adelaide to play with senior players. Although he does that on a daily basis in training, a match atmosphere is completely different.
Reading will play in a physical manner, which will be a good test for Reine-Adelaide.
Wide Right – Oxlade-Chamberlain
Alex Oxlade-Chamberlain starts on the right. Ox made some noise last week about his lack of playing time. This is a chance for him to prove himself worthy of more starting minutes. As one of the more senior players in the squad, Oxlade-Chamberlain will have to take some attacking initiative, especially with Reine-Adelaide playing next to him.
Wide Left – Iwobi
Although currently a first team regular, Alex Iwobi starts on the left. His form has dipped slightly that past week, which could clear up space for Perez or Oxlade-Chamberlain to get more playing. Regardless, he is an excellent player who is still very young and relatively inexperienced. More playing time can't do him any harm.
Striker – Perez
Perez starts up front. The Spaniard has played well when given the opportunity, albeit not very often so far this season. With Giroud available off the bench, Perez will need to prove himself once again as his French teammate will be pressing for playing time, as well.
(4-3-3)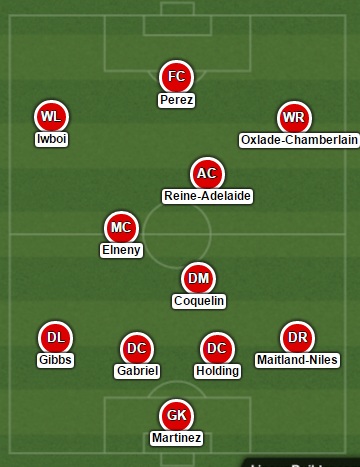 Via – Lineup Builder