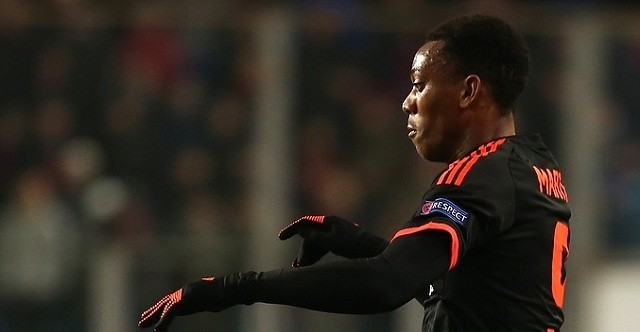 Manchester United are facing a difficult part of the league schedule. They just came off an away match to Liverpool last weekend, and they will now have to travel to Stamford Bridge this weekend. Last week Jose Mourinho seemed content with a draw, and with a similarly difficult matchup ahead of him this week, I would expect to see him play with similar tactics.
With that in mind let's take a look at the possible lineup.
GK- David de Gea
This is still probably the easiest lineup decision Jose Mourinho has to make. Backup Sergio Romero is a good goalkeeper, but de Gea is arguably one of the best goalkeepers in the entire world.
LB- Luke Shaw
Shaw played well in his return to the starting lineup on Thursday for Manchester United, recording 7 tackles to go along with 5 clearances. Chris Smalling also picked up a bit of an injury on Thursday, and although Mourinho is optimistic that he will be fit, Smalling might begin the game on the bench as a precaution. If this happens, Blind likely moves to center back to replace Smalling, and Shaw fills in at left back.
CB- Daley Blind and Eric Bailly
Bailly has been good all season long for Manchester United, and he is looking like a very good signing by Jose Mourinho. He is currently 2nd on the team in interceptions per game and first on the team in clearances per game.
Blind has been playing extremely well at left back with Luke Shaw out, but he is also a very capable center back and he paired up successfully with Bailly a few times earlier in the season.
RB- Antonio Valencia
Valencia was given the day off on Thursday, but he has played phenomenal all season long, and he was especially good last week against Liverpool. Manchester United will need another strong defensive showing from Valencia if they want to get a good result out of this game.
CM- Marouane Fellaini and Ander Herrera
Ander Herrera had one of the best performance by any Manchester United player this season against Liverpool last weekend, so it would be a shock if he is not in the center midfield. Fellaini has also been a strong defensive player this season for United, as he leads the team with 3.5 tackles per game.
Jose started Fellaini and Herrera together in the midfield last week against Liverpool, and it worked well enough to get his team a draw. With a similar fixture coming up against Chelsea, I would expect Mourinho to implement the same strategy.
AML- Anthony Martial
Martial returned to action on Thursday in the Europa League and played well. If Mourinho is confident in his fitness, then he is likely a better option to start than Ashley Young, who played last week against Liverpool
AMC- Paul Pogba
Pogba had a bit of a breakout performance on Thursday, scoring two goals (although one was from the penalty spot). However, he will likely be asked to focus more on defensive responsibilities against Chelsea.
AMR- Marcus Rashford
Rashford played at this position last week against Liverpool, and he faired well. Juan Mata could be another candidate to play here, but with Jose Mourinho likely opting for a more defensive lineup, Rashford seems to be the more likely selection.
ST- Zlatan Ibrahimovic 
Zlatan has struggled to score over the past few weeks, but he still has a strong enough track record to expect him to turn it around. Jose Mourinho has said he's willing to bench any of his players, regardless of stature, but I think it's too early to put Zlatan on the bench.
(4-2-3-1)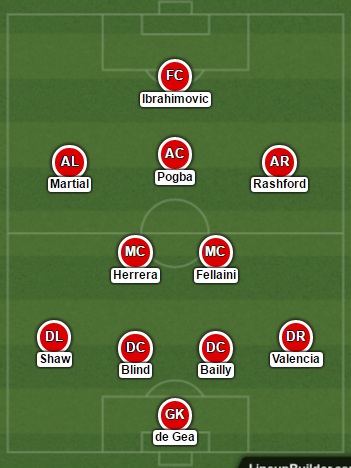 Via- Lineup Builder