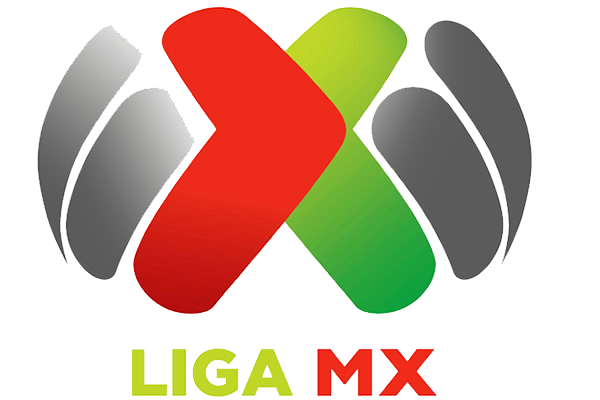 Chivas play defending Liga MX champions Pachuca at home this Sunday.  Most fans will agree that this is the best game of the weekend, and it certainly is a star-studded one.
Both sides played midweek games, with Chivas taking care of Ascenso MX side Alebrijes 1-0 in the Copa MX, and Pachuca battling out a 4-4 draw against Honduran side Olimpia in the CONCACAF Champions League.  With the midweek recap out of the way, here is how you can expect Chivas to line up on Sunday, in a typical 4-4-2 formation:
Goalkeeper: Rodolfo Cota
Cota, like most members of the typical Guadalajara starting eleven, sat out against Alebrijes on Wednesday.  Not that there was any doubt, but this confirms Cota as the #1 keeper on the team.
Left Back: Edwin Hernández

Hernández is still the best choice for Chivas at LB, and remains one of the best two-way defenders in the league.  An interesting stat: Hernández is seventh in the league in touches.  However, in defensive touches, he is not even in the top 15.
Center Backs: Carlos Salcido and Hedgardo Marín
In a league that has become flooded with attacking center and full backs, it is refreshing to see Chivas' back line doing things the old school way.  Salcido and Marín have combined for zero goals and zero assists this season.  But when it comes to stopping the opposition, few have done it as well as these two.
Right Back: Jesús Sánchez
Jesús Sánchez has been sharing time with Jair Pereira at right back for Guadalajara this season.  However, Pereira just played a full match against Alebrijes, and Chivas have superior depth at right mid, Sánchez's other position.  Thus, it is natural for him to take right back duties on Sunday.
Left Midfielder: Carlos Cisneros
Cisneros has perhaps not been as great as he was last season, but it is also possible he has merely been lost in the (pretty large) crowd of capable Chivas midfielders.  Matías Almeyda has called upon him time and time again, and certainly will do so again against Pachuca.
Center Midfielders: Orbelín Pineda and Michael Pérez
Orbelín has moved up to become the 2nd most accurate passer in Liga MX, completing 88.5% of his passes.  The 20-year-old has settled in as one of the best young players in all of CONCACAF.  Peréz is set to break his personal record for most Liga MX minutes played in a season, currently just nine minutes shy of his total from Apertura 2015.
Right Midfielder: Isaac Brizuela
What hasn't already been said about Brizuela?  He's an absolute workhorse, who puts in maximum effort even in the least important matches.  Unless he is seriously injured, Brizuela can always be counted on.
Strikers: Alan Pulido and Ángel Zaldívar

Pulido is back from injury, and played in the Copa MX match vs Alebrijes without any visible discomfort.  He remains the biggest scoring threat for Chivas.  He will likely by accompanied by Zaldívar, the second biggest scoring threat for Chivas.  That's not to say they're all that dangerous, though.  Chivas have scored just 15 times, the least out of any team currently in a liguilla place.
(4-4-2)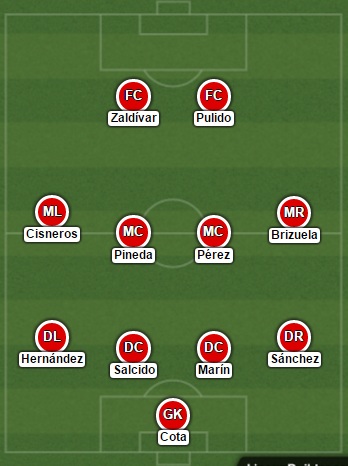 Via – Lineup Builder