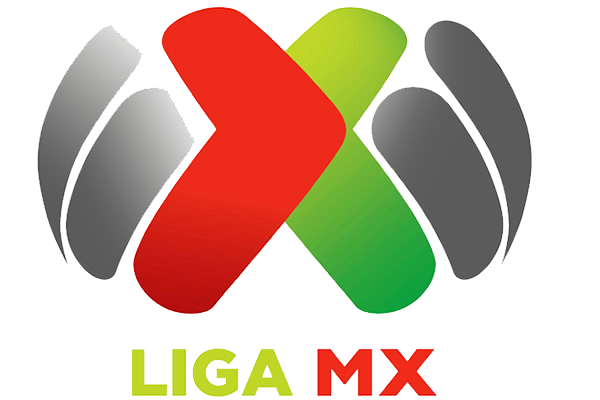 Las Aguilas will be away to Querétaro for their jornada 14 match.  América currently sit 10 places above their opponents in the table, but that does not mean it will be an easy win for them on Saturday night.  Querétaro have been difficult to handle at home this season, managing 11 points from six matches.  Here is how América is expected to line up:
Goalkeeper: Moisés Muñóz
Muñóz was hardly tested by Xolos last week, but he did pick up his second shutout in league play this year.
Left Back: Osmar Mares
Mares just played 90 minutes in the Copa MX on Tuesday, but was given the day off in jornada 13, so he should be ready to return to duty against Querétaro.
Central Backs: Pablo Aguilar and Paolo Goltz
These two also played in the win against Jaguares on Tuesday, but they are the backbone of this América defense and can be counted on to put in a full day's work this weekend.  Aguilar, in particular, has not missed a single minute of Liga MX fútbol this year.
Right Back: Bruno Valdéz
The Paraguayan has incorporated himself into the América offense thanks to his impressive 80.3% passing.  Valdéz has become a very versatile right back for Las Aguilas.
Central Defensive Mids: Osvaldo Martínez and José Guerrero
Martínez has proven himself perfectly capable of playing anywhere in the midfield, and so he will fill in the defensive slot alongside Guerrero, who has been playing back as well in recent weeks.
Left Attacking Midfielder: Rubens Sambueza
The captain will be getting the start on the left side out of necessity, as teammate Renato Ibarra is only capable of playing on the right.
Right Attacking Midfielder: Renato Ibarra
Ibarra must be pleasing Ricardo La Volpe.  After playing 90 minutes against Tijuana last week, and coming off the bench in the Copa MX on Tuesday, it is clear that the América boss sees something in the Ecuadorian.  Expect him to start on the right side opposite Rubens Sambueza.
Strikers: Silvio Romero and Oribe Peralta
Of course this duo will lead the charge for América yet again.  When you have such a potent offense, why change anything?  América's two frontmen have contributed 10 out of the team's 21 goals in Liga MX this season, and Romero has scored an additional two goals in the Copa MX.
(4-2-2-2)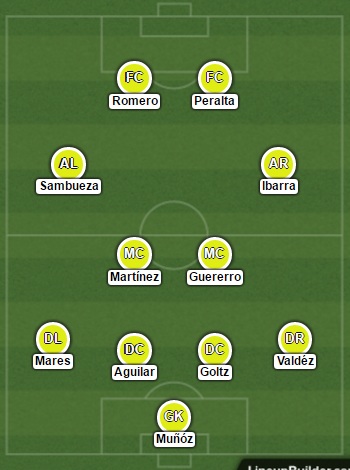 Via – Lineup Builder