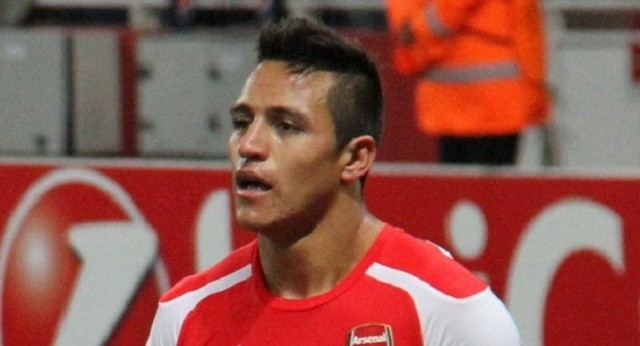 A 6-0 win over Ludogorets has brought Arsenal's unbeaten run to 11 games, the only loss coming in the season opener against Liverpool. They are level with Manchester City at the top of the Premier League table and also top their Champions League group alongside PSG. A huge moral boost came when they beat Chelsea 3-0 after years of losing. A large reason behind the club's magnificent play in recent weeks has been the great run of form from three of their best players, Alexis Sanchez, Mesut Ozil and Theo Walcott.
All three have been on fire recently; Walcott leads the team with eight goals in all competitions, Ozil just scored a hat trick against Ludogorets and Sanchez has fully embraced his new role as the lone striker at the top of the formation. With a solid midfield and defense behind them, the three attackers, along with Alex Iwobi or Alex Oxlade-Chamberlain, have been able to build around their speed and passing ability.
Sanchez has often looked like he was wasted whenever Wenger has played him upfront. His ridiculous amount of energy made him one of the most effective wingers at tracking back and helping his full-back out. However, Olivier Giroud's inability to keep his emotions in check and the fact that Lucas Perez is still adjusting to a new team and country has made Sanchez the best option for the French manager. Having him upfront has made Arsenal even faster and more unpredictable. His constant movement forces defenders out of position and he is able to be more fluid with his teammates. Giroud or Perez will still be better options in matches where the opponents sit back and prevent the Gunners from generating those quick counter-attacks.
This version of Ozil could be the best we've seen him play. He is well on his way to a career-high in goals scored for a season and has solidified his spot as the top playmaker in the Premier League. The German midfielder was always capable of breaking a defense down with a pass but he never pushed himself to be more of a goalscorer. Part of that may be because he has always played with some of the world's best attackers. After all, when you play behind or alongside players like Cristiano Ronaldo, Thomas Muller or even an in-form Claudio Pizzaro way back in Werder Bremen's 2009-2010 squad.
This season, Ozil has been more willing to make himself available within the box. He has been able to create space for himself and times his runs to perfection. His wonderful goal against Swansea is the epitome of his newfound skill. He is the only Arsenal player in the box, but due to Swansea's ineptitude, Sanchez is able to find Ozil with a good, but not great, cross. The cross was too close to the goal line but Ozil was able to prepare his shot for what seems like an eternity and it ended up in the back of the net. With 3 goals in the Premier League already, Ozil could very well be on his way to a career high in goals scored.
Then there's Walcott, a player who finally looks like he is fulfilling his potential as the second-coming of Theirry Henry, a winger who is converted into a world-class striker. While he still plays on the wing, he only trails behind Diego Costa and Romelu Lukaku in the scoring charts in the Premier League. As Wenger has said, it looks like being left out of England's European Championship squad has ignited a flame under Walcott.
The extra training he went through during the summer has made him sharper and more confident than he ever has been. He is stronger and more able to beat opponents who try to overpower him. While he will never be able to match Henry in the goal-scoring department, just being a threat to score every time he has the ball, like he was against Ludogorets, will only ease the burden of Sanchez or whoever is lining up as the striker.
All three players are playing with a confidence that has elevated everyone around them. Opponents cannot focus on simply stopping Sanchez anymore. Now, both Walcott and Ozil are almost as dangerous. While it would still be smart to take the Gunners' current form with a grain of salt, since they have shown a tendency to falter after strong starts, there is an air around the team that could lead them to the Premier League title.