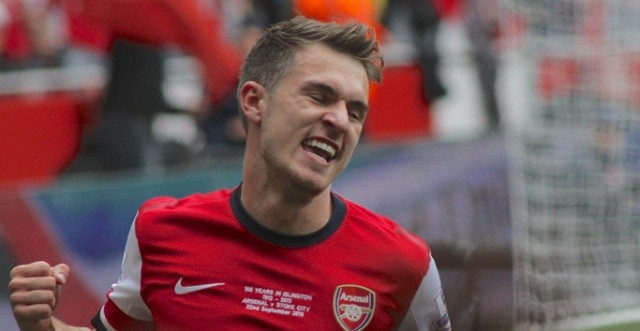 Aaron Ramsey suffered a hamstring injury during the first game of the season against Liverpool, and he has yet to appear in another game since.
That could be about to change however, as Arsenal manager, Arsene Wenger, has expressed optimism that a return for Ramsey could be imminent.
Wenger told reporters on Wednesday night that Ramsey was "not far away" from returning, and he has been training with Olivier Giroud.
Arsenal has a good amount of depth in the central midfield, with Santi Cazorla, Granit Xhaka, Francis Coquelin, and Mohamed Elneny. This means that Ramsey will not simply be handed a place in the Arsenal midfield, but he has the talent to regain a spot in the starting XI once he returns from injury.
In fact, it would not be surprising at all if Ramsey earns himself in a starting role sooner rather than later.
Xhaka, Coquelin, and Elneny are all fine players, but none of them provide the attacking ability that Ramsey does. The trio has actually only scored 26 goals combined in 572 total matches. Of course they all provide strong defensive contributions, but their inability to score is quite noticeable.
Ramsey has the ability to score at a much better rate than his midfield counterparts, as he has scored as many as ten goals in a Premier League season. Ramsey is also good at setting up goal scoring opportunities for his teammates, as he made 18 assists in the EPL since the 2013-14 season.
Ramsey provides much more of an offensive spark for Arsenal than any of the alternatives in the central midfield, so this could be a good reason for Arsene Wenger to give him playing time when he gets fit.
If Ramsey can find his form from last season, he will certainly be in the lineup one way or another, and he could help the Gunners build on their already impressive start to the season.