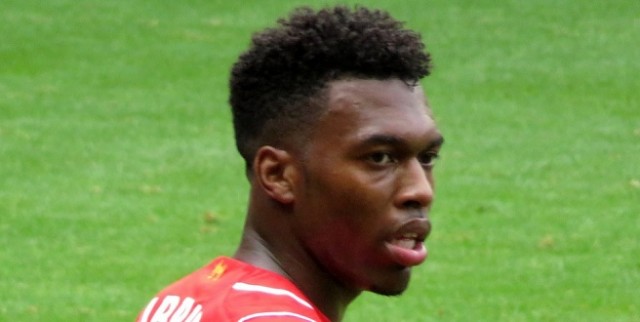 Jurgen Klopp and Liverpool return from the second international break with a huge match against Jose Mourinho and Manchester United. Anfield will definitely be rocking after not having football for awhile especially since it is against one of the club's biggest rivals.
Both managers have had time to figure out the best tactics to best their opponent but Klopp does have an advantage in that he has won three of the five matches he has had against Mourinho.
Goalkeeper
Loris Karius seems to still be adjusting to playing behind a new defense. Communication is still a work in progress but he still has more than enough talent to prove himself. It wouldn't be a big surprise if Klopp decides to go back to Simon Mignolet for a match as big as this one but that could make Karius lose a lot of confidence.
Right-Back
Nathaniel Clyne will probably return to the side after resting during the international break. He will likely face one of English football's most exciting talents in Marcus Rashford. Even if Clyne should keep Rashford for wrecking havoc, it certainly won't be easy.
Center-Backs
Joel Matip and Dejan Lovren will be tasked with trying to control Zlatan Ibrahimovic, one of the most dangerous strikers in the league. Both Matip and Lovren are great defenders but the Swede's unpredictability makes him such a tough player to mark.
Left-Back
James Milner has been in fine form recently despite still adjusting to using his left foot more. He is tied for the team lead in goals scored despite only scoring from penalties. If he has another chance to take a penalty, look for him to continue to find the back of the net.
Midfield
Georginio Wijnaldum and Adam Lallana could return for this match but if they are unable to, Jordan Henderson, Emre Can and Philippe Coutinho maybe the trio Klopp chooses. While it is not ideal to have to replace two great midfielders, Can and Coutinho will be motivated to prove themselves.
Can hasn't been able to regain his place in the lineup after missing the start of the season due to injury. On the other hand, Coutinho is excellent on the wing but he also has experience playing closer to the middle of the field after playing in midfield during the 2013-2014 season.
Right-Wing
Sadio Mane will be rearing to play in his first match against Manchester United. Another great performance will further endear him to the fans. His sheer speed will make him a headache for either Luke Shaw or Daley Blind.
Forward
If Coutinho starts in midfield, Daniel Sturridge may start upfront. The England international has yet to score in the Premier League this season and netting a goal in what could be his 100th appearance for the Reds would be special. The fans are eager to watch him dance again. Divock Origi or Danny Ings could also be in contention to start.
Left Wing
Roberto Firmino can play anywhere along the frontline and he should still put in a great effort no matter where he starts. His tireless running not only sets the tone for the rest of the team's pressing but it also creates space for his teammates when Liverpool attacks.
(4-3-3)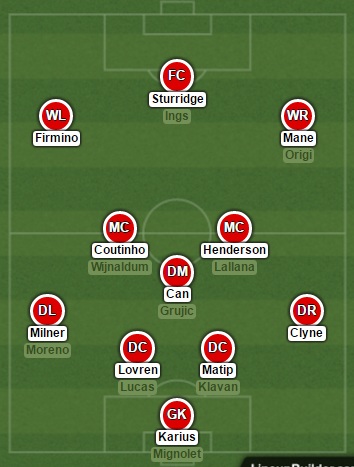 Via – Lineup Builder