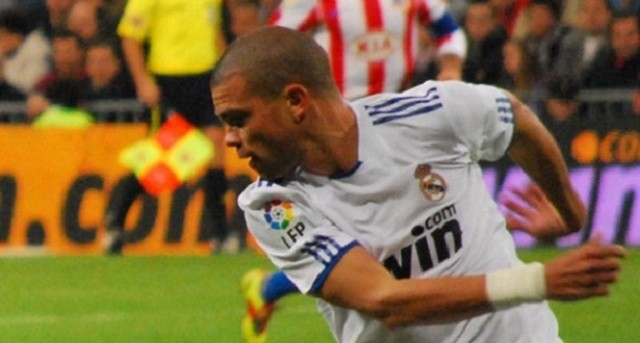 According to AS, a Spanish sports newspaper, Real Madrid are deciding whether or not to extend Pepe's contract for an extra year. Youngsters Diego Llorente and Jesus Vallejo can replace him.
Despite his solid end to the past season, including an European championship win with Portugal, the club no longer thinks of it as a good idea.
Zinedine Zidane believes that Raphaël Varane, Pepe's main competitor, will finally rise up to become the player he's destined to be. At 23 years old, it's his time to take over the defense or he'll look for consistency elsewhere.
On the other hand, Pepe will be 34 by the end of this season. Keeping him an extra year would limit the possibilities for the loaned out future players like Llorente and Vallejo.
In fact, Diego Llorente is almost guaranteed to return at the end of the season. He could legally come back in January if the defense suffered any type of major injury.
Center backs were a headache for Real back in the day. Heinze, Cannavaro, Samuel, Woodgate and others came in and failed to deliver what was expected of them.
However, with Sergio Ramos in 2005, Pepe in 2007 and Varane in 2011, Real have had the same core defense for a while now. It's time to give a chance to the new blood, and Pepe's impending contract end makes him the easiest choice.
Real still have until January to decide whether or not to extend his contract. At that time, the Portuguese could negotiate with any other club.