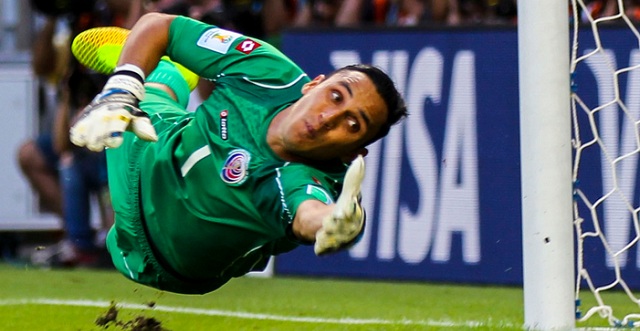 With their second tied game in four days, Real Madrid are undergoing a sort of crisis at the moment. There's no time to dwell on this situation, as the UEFA Champions League returns with its most complicated clash.
Visits to Borussia Dortmund aren't usually positive for Real, and this time won't be any different. The group's first spot will rely heavily on the result from this encounter.
Preferred Formation: 4-3-3
Zinedine Zidane took some chances over the weekend; some paid off and some influenced the 2-2 scoreboard. Injuries, fatigue and lack of form are adding up to the team's poor showings.
However, this match isn't appropriate for experimenting with new systems, as it could backfire. Most importantly, the boss must prepare their team mentally, as they shouldn't be thinking of the past two visits here.
GK: Keylor Navas
The Costa Rican was finally called up against Las Palmas, but Kiko Casilla started once again. His and the defense's poor performance will probably bring the #1 back to the starting lineup.
Defense
RB: Dani Carvajal
It was from his wing that the first conceded goal came to fruition. Because Marcelo's unavailable, it's unlikely that Carvajal will be benched and Danilo take his spot instead. He'll have to use his Bundesliga past as an asset.
CB: Raphäel Varane
The defense isn't doing much to keep those rival goals from happening. There's a lot of relaxation, lack of focus and losing their assigned opponent. Since Dortmund has fast attackers, the Frenchman has a slight edge over Pepe.
CB: Sergio Ramos
The captain may have three goals this season, with one helping to win a trophy, but his form lately is very poor. He usually struggles at the beginning of every new term, yet if this continues, title options could start to decrease soon.
LB: Danilo
Nacho Fernández did a decent job on Saturday, doing most of the work that led to the first goal. Still, it doesn't seem like he would be trusted in such a hostile environment. Danilo has better odds.
Midfield
RCM: Luka Modrić
The Croatian won't rest for this one. A great deal of the attacking plays will have to come from his boots. On top of that, he'll have to focus a little more on his defensive duties. Everyone must work together as one.
CM: Toni Kroos
Without Casemiro, he's the only one that has the ability to play in this position. This undoubtedly limits his creative abilities, yet he's the sole option available for Zidane. This is one of the reasons Marcos Llorente is bound to come back in January.
LCM: Mateo Kovačić
Dortmund has a solid midfield, so this places Mateo ahead of the rest. Even though it would be good to add in another creative men to make up for Kroos' deeper position, a stronger player would fit better with this visit.
Attack
RW: Gareth Bale
Even though this appeared to be his year, the lack of overall team goals is hurting him. He's being very persistent and doing his best to upset rival defenders. His speed will come in very handy on Tuesday.
ST: Karim Benzema
He came in and scored the second goal, which failed to materialize into the three points. While Morata is being a bit more consistent and performing better, it seems like the BBC will be the way to go.
LW: Cristiano Ronaldo
He was subbed in the last one and didn't take it very well. His form is far from his best, with less habitual starters outshining him. The UCL is a special competition for him, so this should serve as a motivation to step it up.
(4-3-3)