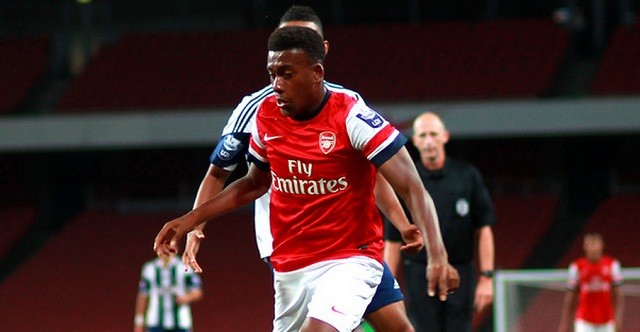 Arsenal and Chelsea face off at the Emirates Stadium this Saturday. This will mark the first time Arsene Wenger faces an Antonio Conte side, and based on recent matches between the two clubs, it set to be a feisty one.
Arsenal have failed to beat Chelsea in their past ten league matches, and have gone six without a goal. The Gunners should feel confident going into this one, but the same was said last year, with both matches seeing Arsenal finish the match with less than ten men. Alex Oxlade-Chamberlain spoke to the importance of keeping a level head against Chelsea, and essentially finishing with eleven men.
As of yet, Wenger has not revealed any team news, however, not many changes are expected from last weekend. Olivier Giroud could at the most make the bench, although considering the Frenchman has been dealing with a toe injury for a week and already lacked match fitness before his injury; it would be surprising if he were included in the squad. Aaron Ramsey will also miss this weekend's match, as fears grow that his hamstring injury could be worse than initially thought. The BBC reported that the Welshman could miss Wales' upcoming World Cup Qualification matches the first week of October, which rules the player out for at least another three weeks potentially.
Although there is likely very little team news, Wenger will have some tough lineup choices to make. Granit Xhaka appears to have played himself into starting contention after the manager called for patience as the Swiss captain adapts to the rigors of the Premier League. Similarly, Lucas Perez must be considered at striker after scoring a brace on Tuesday against Nottingham Forest.
Here is Arsenal's most probable lineup versus Chelsea this weekend.
Goalkeeper – Cech
Petr Cech returns to the lineup against his former club after making way for Emiliano Martinez on Tuesday night. Cech is looking for his second clean sheet of the season.
Right Back – Bellerin
With Alexi Iwobi playing ahead of him, Hector Bellerin should have more space to occupy in the final third. The Nigerian international likes to drift to the middle of the pitch, allowing Bellerin to use his pace and overlap on the right. This was previously difficult with Theo Walcott playing on the right.
Defensively, Bellerin has been sound, but needs to be on his best form to contain Eden Hazard.
Center Backs – Mustafi & Koscielny
Shkodran Mustafi and Laurent Koscielny pair up on Saturday. They'll be dealing with Diego Costa, who tangled with Koscielny last year. The Frenchman responded well by ignoring the Spanish international, but the same couldn't be said for Gabriel, Koscielny's partner on the day. Koscielny must prepare Mustafi, who is experienced enough to deal with a player like Costa.
Left Back – Monreal
Nacho Monreal's experience and positioning will be important for Arsenal when they deal with Chelsea counter attacks. Monreal has developed into a quality left back over the past two seasons by utilizing aggression and positioning to make up for what he lacks in pace.
Defensive Mid – Xhaka
After scoring two thunderbolts of goals in consecutive matches, and providing others an education on how to control a midfield, Xhaka has forced himself into the starting lineup. The Swiss international's ability to spread the ball around, cover large swaths of ground, and shield his back four, allows him to bring calm and control to the midfield. As said before, he should be an excellent partner to Santi Cazorla, and really any of Arsenal's central midfielders.
Wenger may hold him out because of the magnitude of the match, but considering the type of personality that is Xhaka; this seems like the opportune moment to bring him back into the starting eleven.
Central Mid – Cazorla
Cazorla has arguably been Arsenal's best player to date – controlling matches for large portions of time, scoring from the spot, and setting up his teammates. With Xhaka controlling the midfield, Cazorla can set the tempo for Arsenal and thrive next to Arsenal's new £30 million man.
Attacking Mid – Özil
Mesut Özil has had a few rough outings the past couple matches and he'll look to switch that around on Saturday.
Özil is at his best when Alexis Sanchez is on the wing because the Chilean drops back deep, taking up space occupied by Özil. When Alexis drops deep, he also takes away options for Özil to pass to and limits the space provided to Arsenal wide players. If Alexis lines up on the wing, expect Özil to thrive. If not, Özil could be suffocated of space once again.
Wide Right – Iwobi
Iwobi is a must start and if Perez is in the lineup, the Nigerian youngster will lineup on the right. Regardless of where Iwobi plays though, he's always an effective player, bringing his teammates into play, creating chances, and operating in between the lines.
While the pundits rave over the potential and performances of Marcus Rashford, Iwobi is quietly the best young player in the Premier League. The England setup must feel stupid for letting him declare for Nigeria, instead.
Wide Left – Alexis
Alexis has been playing at striker recently, but it's hard to see that as being his permanent position. Rather, with Giroud unfit and Perez not ready for full Premier League matches, the Chilean has been played there in emergency. With Perez putting in an exquisite performance on Tuesday, he's forced himself into the lineup this weekend, pushing Alexis to the left where he is most dangerous.
Striker – Perez
Perez gets a deserved start for his excellent two-goal performance against Nottingham Forest. Arsenal's new Spanish striker tucked away a penalty before scoring a second by nicking the ball from Chelsea product Michael Mancienne, rounding the keeper, and slotting home while fending off a defender.
His pace, technique, and link up play are impressive and should compliment Özil, Alexis, Cazorla, and Iwobi well. While Perez may not be a world-class striker, his work rate is exceptional and it wouldn't be surprising to see him ahead of Giroud in the pecking order once the Frenchman is healthy.
(4-2-3-1)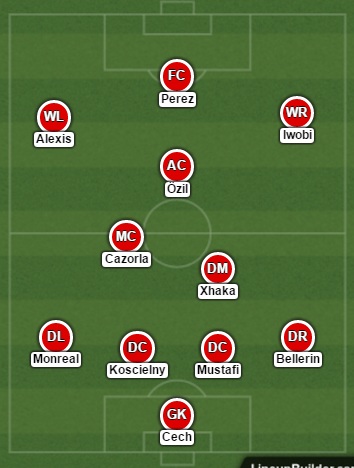 Via – Lineup Builder