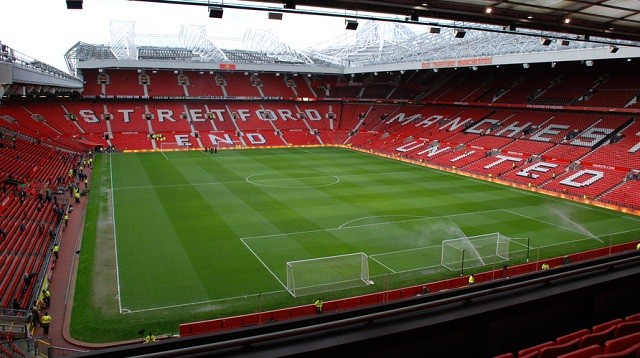 Manchester United snapped a three game losing streak on Wednesday after beating Northampton in the League Cup by a 3-1 scoreline.  They will look to build off of that win this Saturday against a much more difficult opponent in Leicester City.
Let's see what their lineup could look like.
GK- David de Gea
Sergio Romero got the start in the League Cup match on Wednesday, but de Gea will still be starting all of the EPL matches.
LB- Daley Blind
Luke Shaw has been dealing with a groin injury, and Jose Mourinho was unhappy with his play last weekend against Watford. This means that Daley Blind could potentially move over to left back against Leicester until Shaw is fully fit.
CB- Chris Smalling and Eric Bailly
If Blind does in fact move over to left back then Bailly and Smalling would be the best center back pairing available to Jose Mourinho.  Bailly has gotten off to a pretty decent start this season, and Smalling has a track record of being a successful center back in the EPL, so this would be a quality duo.
RB- Antonio Valencia
Valencia has started off the season very strong, and he is the best option at right back for Mourinho at this point in time, so there is no reason for him not to start on Saturday.
CM- Paul Pogba and Ander Herrera 
Pogba hasn't been at his best recently, but he still figures to be a lock to start at this point.  Ander Herrera has played well in recent Europa League and League Cup matches, and I could see Mourinho putting him in the lineup over Marouane Fellaini in an attempt to shake things up.
AML- Marcus Rashford 
Anthony Martial's status for this game is unknown after he suffered a concussion last week against Watford.  If Martial can't play, Rashford could start here like he did last weekend.  Rashford is more of a forward, but it wouldn't hurt to play him at this position considering he is in good form at the moment.
AMC- Juan Mata
Wayne Rooney has been in dreadful form recently, and he will likely be dropped from the lineup for this weekend's match against Leicester City.  Henrikh Mkhitaryan would be a perfect fit at this position if he is healthy, but if his thigh injury keeps him out for this match, then Juan Mata would likely be next in the pecking order.
AMR- Jesse Lingard
Lingard has only played in one Premier League game so far this season, but he could get a chance to start on Saturday if Mkhitaryan and Martial are unfit to play in the match.
ST- Zlatan Ibrahimovic 
Zlatan has scored 4 goals in 5 EPL matches so far this season, so there is no reason for Mourinho to drop him from the lineup.  There is every reason to think that Zlatan will continue to provide goals for Manchester United.
(4-2-3-1)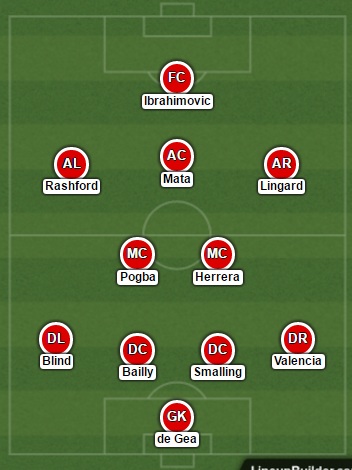 Via – Lineup Builder