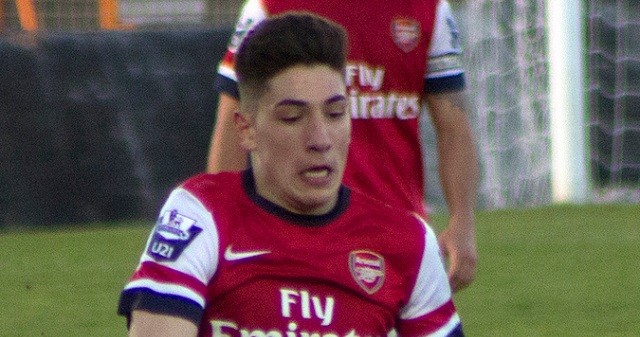 According to Catalan sports publication, Sport, Barcelona have again set their sites on Arsenal right back Hector Bellerin.
BELLERÍN: 35 MILLONES#PortadaSPORThttps://t.co/t7DfHDXfUK

— Diario SPORT (@sport) September 19, 2016
Sport discusses Bellerin's connection to the club – the youngster came through La Masia – and therefore has the Barcelona DNA, as the Catalan press loves to poetically wax about. They continue by claiming a €35 million offer could be in the offing.
Bellerin moved to Arsenal in 2011 and finished his academy career in London. He broke into the first team during the 2014-2015 season and quickly claimed the right back position as his own. At the time, Mathieu Debuchy was entrenched in the position having just signed for Arsenal from Newcastle. However, a series of unfortunate injuries befell the French defender and Bellerin capitalized.
Earlier this week, Barcelona vice-president Jordi Mestre praised Bellerin's development at Arsenal, and admitted the club couldn't promise first team football to Bellerin before he moved to London.
"Wenger convinced him to move and promised him something which we couldn't. We could not promise him that within two years he would be playing in Dani Alves' place."
Although Mestre did not specifically say Barcelona would make a move for Bellerin, he hinted at the possibility.
"In many cases it's good that they leave to develop as players and then return. Look at the case of Cesc [Fabregas], [Gerard] Pique, [Jordi] Alba and Dennis Suarez … I hope the same thing will happen with [Sergi] Samper too.
"It's positive that [these players] get minutes at other clubs. It is a dynamic which has always provided good results for players that carry the Barca DNA in their blood."
Bellerin has been consistent in saying he is not seeking a move back to Barcelona. Last October, he made it very clear that London is his home and leaving is not something he'd consider.
"I came to Arsenal to stay here, I'm not thinking about going back. I'm happy and I'm playing. It's my fifth season and I feel like this is my home. I see it as very difficult to leave."
When you listen to Bellerin speak, you can hear in his accent how quickly he's acclimated to life in London.
If that isn't convincing enough, he signed a contract extension with the club last summer that will keep him in London until at least 2019. It wouldn't be crazy if Arsenal gave him a contract extension again this year.