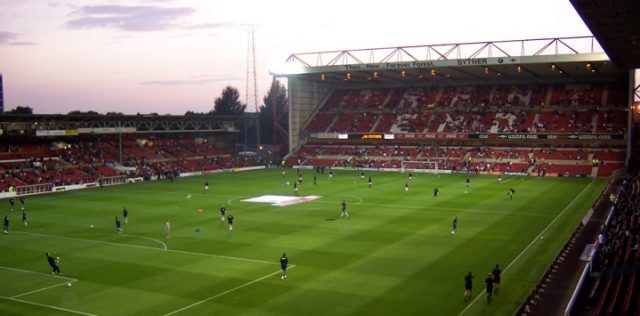 Arsenal travel to Nottingham Forest for their League Cup 3rd Round match on Tuesday. The last time the two met was in 1999 with Arsenal coming away winners thanks a rare Martin Keown goal.
The Gunners are coming off a three match winning streak in the league, and haven't lost since their 4-3 season opener to Liverpool. Nottingham Forest started their season strong, winning five of seven but haven't been able to come away with the three points in their last three matches.
Speaking ahead of the match, Arsene Wenger revealed some team news. Olivier Giroud will miss his second consecutive match with a toe injury, meaning Lucas Perez will make his second start of the season. Carl Jenkinson will be unavailable as well as the English right back continues with his comeback from a serious knee injury. The same goes for Aaron Ramsey who could also miss next weekend's match against Chelsea.
There is some positive news, though, as Gabriel has returned to full training and is in line to make his first start of the season. The same goes for Mathieu Debuchy, while youngsters Chuba Akpom, Krystian Beilik, Chris Willock, and Gedion Zelalem will find a place on the bench. Jeff Reine-Adelaide seems set to make his first start for the club with Wenger's options limited at Number 10. All five youngsters impressed in pre-season matches and recently joined first-team training.
Many Arsenal fans will be looking forward to facing Nicklas Bendtner, the former Arsenal academy member who spent nine years at the club, scoring 47 goals in 171 total appearances. Although, he was a frustrating player to watch, the folklore surrounding the Danish international is a source of entertainment for many Gooners, who affectionately (and cynically) refer to him as Lord Bendtner and TGSTEL (The Greatest Striker That Ever Lived).
For his part, Bendtner takes much of the fun on the chin and embraces the persona Gooners have created for him – as much as one can, at least. Speaking to the BBC prior to the match, he admitted it would be special to face his former club but that his time there is now a distant memory. When asked if he would celebrate scoring against Arsenal, he said yes but "I won't go crazy."
Although the League Cup is not usually hyped up as an exciting competition, you can't deny the potential entertainment factor of this match.
Here is Arsenal's most probable starting lineup against Nottingham Forest on Tuesday. 
Goalkeeper – Ospina
David Ospina starts in goal. He put in a man of the match performance in the Champions League last week and will look to replicate that form. The further Arsenal progress in cup competitions, the more games Ospina will play.
Right Back – Debuchy
Debuchy looks set to make his first appearance of the season. The French right back has yet to even make a match day squad, but there is speculation that could be down to fitness.
Center Backs – Holding & Gabriel
Gabriel has made a return to first team training since injuring his ankle in pre-season and seems set to make his first appearance of the season. The impressive Rob Holding will partner him. Holding has made three starts in the Premier League this season, all of which received praise from the manager. He'll look to build on those performances and take his chances in cup competitions like the League Cup.
Left Back – Gibbs
Kieran Gibbs will make his first start of the season. It'll be interesting to see how much longer Gibbs will be content playing second fiddle to Nacho Monreal. Both are good left backs, with Monreal simply outplaying Gibbs for the past two years. When Gibbs does play, he rarely puts a wrong foot in, however, he often fails to stand out among the rest.
Defensive Mid – Xhaka
Granit Xhaka makes his first start since Arsenal played Watford in August. Xhaka came off the bench this weekend and scored an injury time wonder goal. His celebration seemed to play towards his frustration at sitting on the bench this past month, but with the manager preaching patience, Arsenal's new £30 million-man should soon be starting regularly.
Tuesday's match against Nottingham Forest will be a good opportunity to further acclimate himself to the English game, especially against a lower division side.
Central Mid – Elneny
Like Xhaka, Wenger was extolling Mohamed Elneny's qualities earlier this week, also preaching a degree of patience. With rotation necessary for midweek games, especially in the League Cup, Elneny is the next in line to occupy the central mid position. He is more than capable of dominating the midfield battle, especially against a lower division squad.
Attacking Mid – Reine-Adelaide
Reine-Adelaide could get the start at the Number 10 spot on Tuesday. Reine-Adelaide has yet to make an appearance this year, but is held in extremely high regard by staff at the club. The youngster made a number of appearances off the bench last season, but with a lack of options at this position, its possible Wenger gives the French youngster his first start.
Wide Right – Walcott
After Arsenal's win over the weekend, Wenger praised Theo Walcott's 2nd half efficiency but acknowledged the Englishman could still be looking to gain fitness. Having missed out on last week's match against PSG with a small knee injury, Walcott could stand to play two games in four days, especially to build up match fitness.
Wide Left – Oxlade-Chamberlain
Alex Oxlade-Chamberlain didn't appear over the weekend and struggled against PSG the week before. Besides his goal against Liverpool in the first match of the season, Oxlade-Chamberlain has failed to make a consistent impact in any single match this season and you can tell by his expression every time he is substituted that he's becoming frustrated with himself.
The Ox has always been his own harshest critic and sometimes it feels that self-critique gets the better of him. Wenger has said many times that Oxlade-Chamberlain needs to learn to channel that critique better, putting himself in a better mindset before matches. Tuesday's match could be an opportunity for Oxlade-Chamberlain to play with a bit of freedom and flair. That will surely build confidence.
Striker – Perez
Perez will make his second start for the club and a third appearance overall. Giroud remains out with a toe injury, clearing the way for the Spaniard.
With lower division squads known for the playing a more physical style, this will be an excellent opportunity for Perez to learn about the English game as he continues to adapt to his new league.
(4-2-3-1)
Via – Lineup Builder