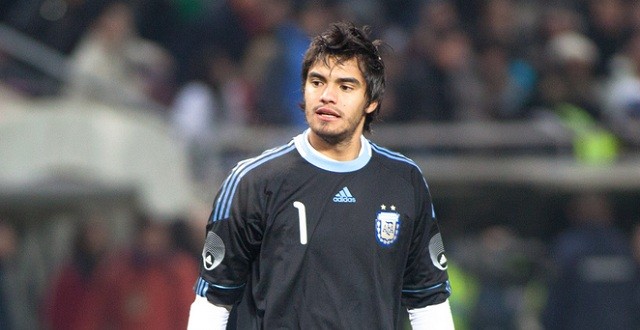 Manchester United will look to snap a three game losing streak this Tuesday when they face League One side Northampton in the League Cup.  The League Cup is usually a chance for managers of top clubs to rotate their squad, so with that in mind let's take a look at the possible Manchester United lineup for Tuesday.
GK- Sergio Romero
Romero is Manchester United's backup goalkeeper, and he should be given a rare chance to start in the early rounds of the League Cup.
LB- Marcos Rojo
Rojo has taken a lot of criticism for his performances since he got to Manchester United, but the League Cup should be a good opportunity for him to gain back some confidence.
CB- Michael Carrick and Timothy Fosu-Mensah
You could argue that center back is not the best position for either of these players, but they both deserve an opportunity to play, so I could see them being shoehorned in as a center back pairing.
RB- Matteo Darmian
Darmian played well for Manchester United when he started last week in the Europa League match against Feyenoord.  With Mourinho likely to rotate the squad, he has a good chance to get the start on Tuesday.
CM- Morgan Schneiderlin and Ander Herrera 
Schneiderlin played a major role for the team last season, and the League Cup is an opportunity for him to get some playing time. Herrera deserves more playing time, and he deserves to be strongly considered for first team minutes going forward.
AML- Memphis Depay
Memphis has struggled a lot since he arrived at Manchester United, but he should be more than good enough to get the job done against a League One opponent.
AMC- Jesse Lingard
Lingard has yet to get much playing time so far this season, but Mourinho needs to try to figure out if he is good enough to play a significant role for Manchester United this season.
AMR- Juan Mata
With Henrikh Mkhitaryan still injured, Mata is going to get most of the playing time at this position.
ST- Marcus Rashford
Rashford is a special talent, and he deserves to get as much playing time as possible.  Zlatan will almost certainly be given the day off for this match, so Rashford should get another starting opportunity.
(4-2-3-1)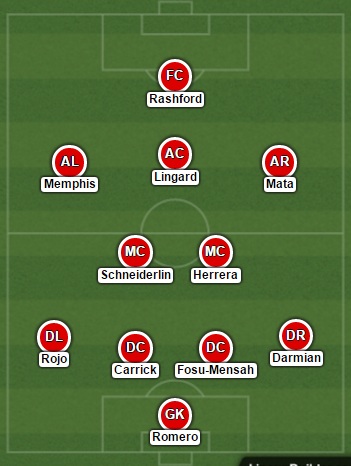 Via – Lineup Builder