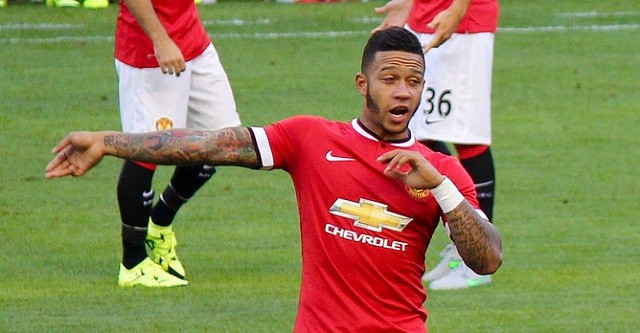 Manchester United kick off their Europa League campaign with a group stage game against away to Feyenoord in the Netherlands.  Prior to the international break, Mourinho said he is hoping to do a lot more squad rotation in the midweek fixtures.
With that in mind let's take a look at the possible lineup for Manchester United.
GK- David de Gea
I expect to see Jose Mourinho to do some squad rotation for this midweek fixture, but I think he will stick with his leading man in the net for this match.
LB- Marcos Rojo
Rojo has not made an appearance in any of Manchester United's 4 Premier League matches so far, but this midweek Europa League fixture could be the perfect opportunity to give him a chance to start.  Luke Shaw is also dealing with a minor injury, and he could probably use a rest.
CB- Chris Smalling and Eric Bailly
Smalling figures to have a very good chance to start this game, as he is a player with a proven track record who has yet to get much playing time this season.  Bailly has been playing well recently and deserves to continue to get playing time.
RB- Antonio Valencia
Jose Mourinho and Matteo Darmian have reportedly had a falling out, so Valencia figures to have a pretty good chance to start this one.
CM- Morgan Schneiderlin and Paul Pogba
Fellaini has been playing very well so far this season, but given his back injury it might be best if he is rested for the Premier League fixture over the weekend. Schneiderlin was a solid contributor for Manchester United last season and deserves some playing time this year. Pogba is too good to keep out of the lineup.
AML- Memphis Depay
Mourinho gave Jesse Lingard an opportunity to prove himself on Saturday against Manchester City, so maybe it is Depay's turn to get his first chance to start on Thursday.  Mourinho said that Lingard will not play against Feyenoord, so Depay or Martial would be the logical options at this position.
AMC- Wayne Rooney
Rooney has played pretty well so far this season, scoring one goal with two assists in four league matches so far this year.  Unless Mourinho wants to give him some rest, I would expect to see him in the starting lineup on Thursday.
AMR- Juan Mata
Henrik Mkhitaryan has still yet to find his grove this season, and Mourinho has stated that he will not start against Feyenoord.  For now, Mata can fill in at this position.
ST- Marcus Rashford
Rashford is an extremely talented young player who needs to get playing time if he is going to develop.  Europa League matches should be a good opportunity to get him some starting action, and Mourinho has said that Rashford will get a chance to start on Thursday.
(4-2-3-1)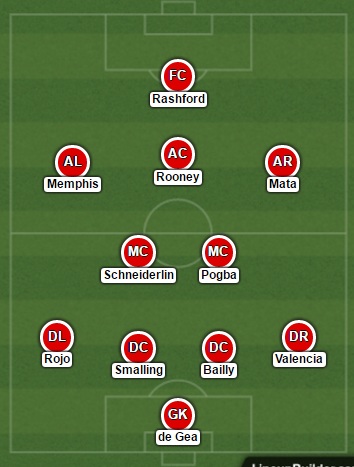 Via – Lineup Builder