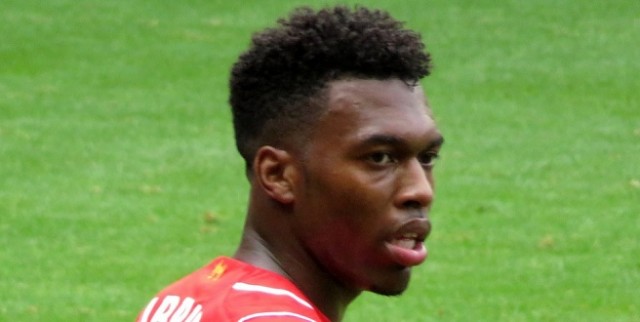 The inconsistency of Jurgen Klopp's Liverpool has carried over to this season. A 2-0 loss to Burnley was followed up with a 5-0 win over Burton in the League Cup. Hopefully the momentum from midweek victory carries over to this weekend when the Reds travel to White Hart Lane this Saturday.
The Spurs were one of the best teams in the Premier League last season but they haven't found their footing so far this season. If the Reds get on the front foot early, Liverpool could notch another win against another top-4 contender.
Goalkeeper
Simon Mignolet hasn't made a case to beat out Loris Karius for the number one spot in the squad but to be fair to him, the defense hasn't helped at all. The Spurs will also be playing their back-up 'keeper since Hugo Lloris is out with an injury.
Right-Back
With two assists already to his name, Nathaniel Clyne is certainly proving that he can be a viable attacking threat from his position.
Center-Backs
The partnership of Dejan Lovren and Joel Matip could make it's Premier League debut this weekend. They played together against Burton in the middle of the week but the Spurs attack is much more fearsome. Klopp has to find a way to stabilize his defense given that they have been conceding goals at an alarming rate.
Left-Back
James Milner looks like he will be the first choice left-back this season. Even if he is still adjusting to the position, given the fact that he has to use his weaker foot to cross, Milner is still arguably a safer option at the back.
Midfield
With Emre Can possibly out with an ankle injury, the trio of Adam Lallana, Jordan Henderson and Georginio Wijnaldum could start again.
The three of them have a lot of energy to press but both Lallana and Wijnaldum have to make sure they maintain possession when the team is building an attack from the back. Henderson also isn't a natural defensive midfielder so he will have a more difficult time containing Dele Alli or Harry Kane.
Right Wing
Sadio Mane is starting to look like an x-factor for Klopp and the Reds. His speed and ability to slice defenses apart makes the team a much bigger threat to score. He should be able to take advantage of Danny Rose's tendency to bomb forward.
Forward
Roberto Firmino seems to be Klopp's first choice striker despite having both Divock Origi and Daniel Sturridge as reliable options. The Brazilian's ability to press at the top of the formation is what sets him apart from the other strikers but he is also becoming a lot more comfortable at being a lone striker.
Left Wing
Philippe Coutinho has been both brilliant and frustrating so far this season. He has shown multiple times that he can score absolutely fantastic goals when cutting in from the left wing.
However, he also squanders possession when one of those shots misses. The important part about those shots is balance, it is a useful attack to have in his arsenal but the tiny magician has to make sure that there are no other options available.
(4-3-3)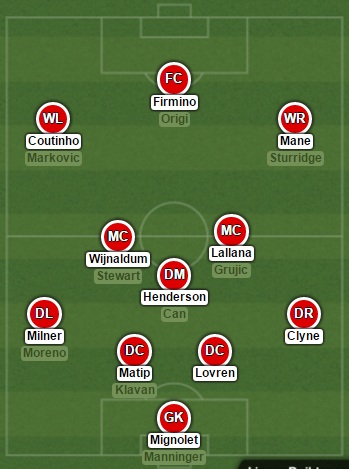 Via – Lineup Builder