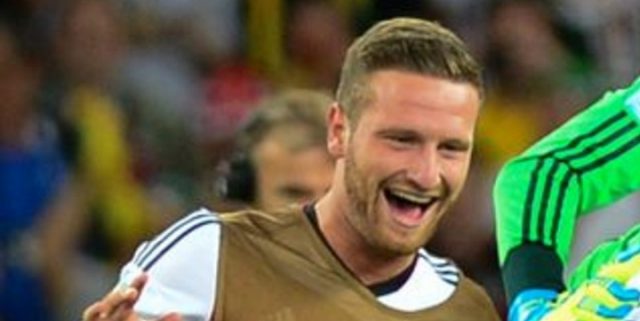 According to the BBC's David Ornstein, Arsenal have agreed deals for Valencia's Shkodran Mustafi and Deportivo de La Caruña's Lucas Perez. The double swoop fills immediate needs at center back and striker and come as a massive sigh of relief to Gooners everywhere.
Arsenal have beaten Everton to signing of Deportivo La Coruna striker Lucas Perez. Deal agreed, #AFC meeting €20m release clause, 17.1m #EFC

— David Ornstein (@bbcsport_david) August 25, 2016
Long time summer target Mustafi, who has already agreed to terms with the Gunners, and 27-year old Perez are set to arrive in London Friday for medicals, completing their moves. Arsenal will pay Valencia a fee in excess of £35 million and Deportivo £17 million, meeting Perez's transfer clause.
Arsenal close to agreeing deal to sign Valencia centre-back Shkodran Mustafi. #AFC will pay fee in excess of £35m for Germany international

— David Ornstein (@bbcsport_david) August 25, 2016
The Gunners have been linked with a move for Mustafi for four weeks now. They had an initial bid of £20 million rejected, as Valencia sought £42 million, which would have met the player's transfer clause. With Valencia cash strapped and in need of funds to meet Financial Fair Play regulations, and Arsenal short at center back, a deal made sense for both clubs.
However, the clubs postured for weeks, Arsenal looking to keep the price below £42 million so they could still add a striker, and Valencia trying to get as much as they could in return for their stalwart center back.
In the end, Arsenal get the center back they want and need at a fair price for this summer's market, and Valencia are £35 million closer to dodging UEFA sanctions.
Perez's transfer comes as a surprise. The striker flew under the media's radar until Thursday night when El Confidencial revealed Arsenal had swooped in with an offer for the striker.
Perez and his club had agreed to terms with Everton before the London club made a concrete offer. Once an offer was made, Perez had his sights set on London, leaving Ronald Koeman, who had planned to pair the Spaniard with Romelu Lukaku, empty handed.
Perez scored 17 goals and assisted another 10 while playing every minute of last season – his first as an out and out striker. Earlier in his career, Perez played on the wing and as a more creative forward, which explains his low scoring statistics. Prior to his time at Deportivo Perez played for Rayo Vallecano, Karpaty Lviv, Dynamo Kyiv, and PAOK. He came through the Atletico Madrid youth system.
Soon to be 28, Perez has been compared by many to former Arsenal target, Jamie Vardy. Perez possesses speed, finishing, a knack to be in the right spot, and a strong work ethic. He likes to run behind the defense, which should be exciting for Mesut Özil and Santi Cazorla, and is a handful for defenders to deal with.
While Perez is not the world-class striker that Arsenal still need, he is a capable player that adds depth and competition to the club's striker department.
With Arsenal's transfer spending now close to £100 million, any new additions will depend on future departures. Kieran Gibbs has been linked with a move away from the club, and his exit would certainly force Arsenal back into the market. Players like Mathieu Debuchy and Yaya Sanogo may soon find their selves at a new club, as well, possibly on loan. Neither would require replacing.
Calum Chambers and Chris Willock are likely to ply their trade elsewhere this season too, with both youngsters touted as loan candidates to gain valuable first team experience. With experienced senior players ahead in both of their positions, neither Willock nor Chambers would require replacing.
Mustafi and Perez would be eligible to play this Saturday against Watford if they are registered in time on Friday. However, it's unlikely either will feature before training with their new teammates and debuts for both should be expected after the international break.