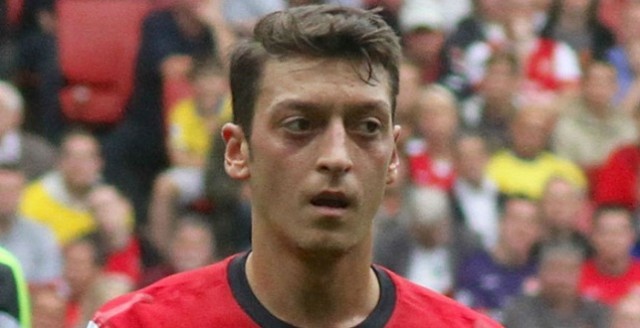 Arsenal take on Watford at Vicarage Road this Saturday as they seek their first win of the season.
The Gunners put in an improved performance last weekend, earning a nil-nil draw against Leicester City. Their improvements were largely down to the introduction of Laurent Koscielny, who captained the side and put in a man of the match performance.
With Arsene Wenger yet to reveal this weekend's team news as of writing this, it's difficult to say who will start. This weekend could see Olivier Giroud and Mesut Özil return to the starting lineup. Both were on the bench last weekend as they continue to build fitness after returning from holiday three weeks ago.
Wenger wrung the changes in midfield last weekend with Santi Cazorla and Granit Xhaka coming into the squad in place of the Mohamed Elneny and the injured Aaron Ramsey. We could see some more changes this weekend as the midfield hasn't quite clicked yet.
Özil could get his first start up top with Xhaka and Francis Coquelin shielding the back four. Or Jack Wilshere could come in, after a lively 20-minute cameo last weekend, and add a little attacking verve next to either Xhaka or Coquelin. Similarly Cazorla could drop deeper and provide that same attacking link as Wilshere might.
With a wealth of midfield options, Wenger will have some interesting choices to make. Depending on the fitness of Giroud, the rest of the squad selects itself.
Here is the Arsenal's most probable starting lineup versus Watford this Saturday.
Goalkeeper – Cech
Petr Cech starts in goal. He made a couple of well-timed saves to keep Jamie Vardy and co. at bay, securing his first clean sheet of the season.
Having Koscielny back in the squad must have been a godsend to the experienced Czech keeper, and Cech will look to put in another solid performance against Troy Deeney and Odion Ighalo.
Right Back – Bellerin
Hector Bellerin was better last weekend and will look to put in another improved performance against Watford.
Theo Walcott and Bellerin need to develop an understanding fast if Arsenal are to remain dangerous from the right. The two don't understand each other's movement yet and it's preventing Bellerin from using his pace to quickly exploit space in front of him. Arsenal are often most dangerous on the break when Bellerin is able to break away, and with that subdued, Arsenal's movement is off on the break.
Center Backs – Holding & Koscielny
Rob Holding retains his place in the squad after another impressive performance. His calm, reassured manner on the ball adds quality to his distribution and his ability to read the game in front of him is impressive. Holding benefited from Koscielny's presence, who despite a back injury, was superb in his first appearance of the season.
Barring any health issues, Koscielny and Holding remain the preferred pairing at center back. That is until Shkodran Mustafi officially joins.
Left Back – Monreal
Nacho Monreal effectively took Riyadh Mahrez out of the game last weekend. Monreal did well to always stay in front of Mahrez and cleverly used help when it was given. It was a much-improved performance compared to the torrid time he had against Liverpool.
This weekend, Monreal will look to add more in the attacking phase.
Defensive Mid – Coquelin
Coquelin seems to be Wenger's preferred defensive midfield choice, at least until Xhaka gets his bearings in the Premier League. Until then, Coquelin will aid Xhaka in shielding the midfield, while Arsenal's new Swiss signing plays a deep playmaker type role.
Central Mid – Xhaka
Although Wenger has options with more Premier League experience in Wilshere and Cazorla, the manager will persist with his new signing. The more minutes Xhaka gets, the quicker he can acclimate himself.
This also serves as an opportunity for Özil and Xhaka to acquaint their selves on the pitch. That is a duo that could thrive together the more they play.
Attacking Mid – Özil
Özil will get his first start of the season this weekend. He came on with 20 minutes left against Leicester and completely transformed Arsenal. They looked dangerous and incisive with their German playmaker on the pitch, as Özil's class shown through.
Of the two, Özil seems sharper than Giroud it's unlikely that Wenger will start both players. With plenty of options on the bench, Özil is unlikely to play the full 90 minutes.
Wide Right – Walcott
Walcott starts on the right for a third consecutive time. While he faded in out of the match, Walcott's defensive contributions were impressive as he willingly sprinted back to pick up his man and provide cover for Bellerin. Although he's wildly inconsistent, it's encouraging to see him defend, which has been his biggest criticism the past two seasons.
Wide Left – Oxlade-Chamberlain
Alex Oxlade-Chamberlain was by far Arsenal's most dangerous man in the first half last weekend. Unfortunately, he couldn't sustain that in the second half and was replaced by Giroud in the 78th minute.
Oxlade-Chamberlain should take confidence in his performance though, and look to build again this weekend. He's had great success taking opponents on one-on-one and has been looking to do so often. It's possible the manager has instructed him to and Chamberlain is one of the few players in the squad that can. As long as he focuses on the positives of his performance and continues to add individual flair to Arsenal's game, he should have a big impact.
Striker – Alexis
Alexis gets another shot at striker, having failed to impress here on two consecutive occasions. His positional indiscipline hurts Arsenal when he's playing as a striker because his tendency to drift wide or deep to collect the ball means there is no one in the box or deep down the pitch to aim a pass at.
Giroud won't be risked just yet as he regains fitness, and Lucas Perez, whose signing has yet to be officially confirmed, won't be available this weekend. Hopefully, another week in training will have helped Alexis gain familiarity with his temporary role.
(4-2-3-1)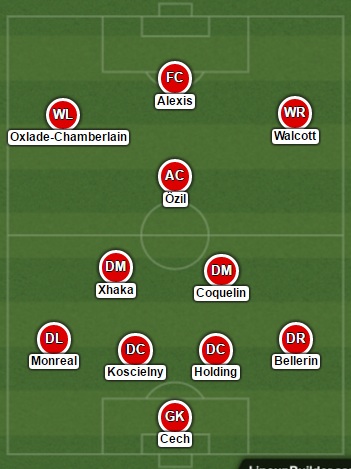 Via – Lineup Builder