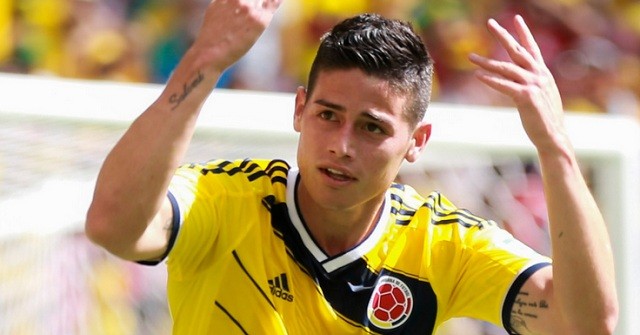 Arsenal are reportedly interested in signing Real Madrid star midfielder James Rodriguez, according to the Metro (via Mundo Deportivo).
As surprising as it may sound, the report says that the Gunners are willing to pay the big money necessary to get Rodriguez. A transfer for James is expected to cost around £50 million.
The report says that Real Madrid have made Rodriguez available on the transfer market because he has fallen a bit down on their depth chart. In addition to Arsenal, Chelsea have also shown interest in getting James.
Rodriguez would be a nice boost to the Arsenal attack if they are able to get him, as he could start as either a winger or attacking midfielder for the Gunners.
He has 20 goals with 22 assists in La Liga matches for Real Madrid since the 2014/15 season, which is very impressive considering he only made 17 starts in league games last season.
The reports are indicating that Arsenal has a realistic chance to get James, but Arsene Wenger has not yet shown a willingness to spend big time money this summer.
Unless Wenger changes his philosophy in the last week of the transfer window, it'd be difficult to see the Gunners winning a bidding war with Chelsea to get Rodriguez.