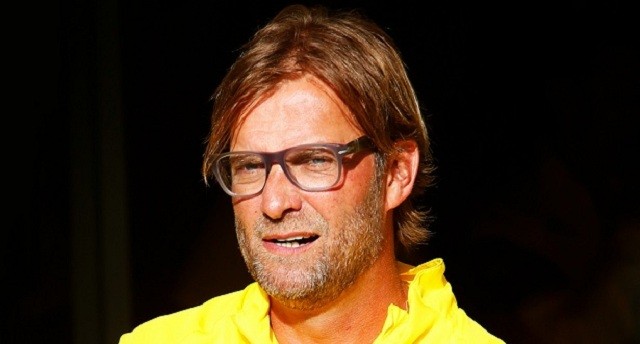 With a solid pre-season behind them, Jurgen Klopp and Liverpool begin their season at the Emirates against Arsenal. Both teams already have a few injuries to players to deal with but that's what the transfer window is for, to add depth to the squad.
Now that he has had a full pre-season to work with and condition his players, we should see the complete implementation of Klopp's strategy.
It is always important to start the season with three points but a victory against a fellow top-four contender would be a massive boost in confidence for the Reds.
Goalkeeper
Given Loris Karius' injury, Simon Mignolet will once again start in goal for Liverpool. It's the same old story for the Belgian, he's a terrific shot stopper but his flaws, the inability to distribute the ball properly and the complete lack of control over his box, make him an extremely frustrating player.
Right-Back
Nathaniel Clyne will have a tough weekend since he will face Alexis Sanchez, one of the most electric players in the league.
Clyne was the most consistent player for the team last season and there is no reason for him to be any less consistent this term. Sanchez may beat him a few times but Clyne can definitely hold his own.
Center-Backs
With Joel Matip still returning from an injury and Mamadou Sakho working his way back into Klopp's good graces, Dejan Lovren and Ragnar Klavan will likely be the pair in the heart of Liverpool's defense.
Left-Back
Alberto Moreno did not have the best pre-season but he will start since James Milner is injured. Klopp has been unable to acquire a new left-back so far but to be fair, Moreno has had the occasional match where he has looked like a decent defender. Hopefully he has one of those matches this weekend instead of the utter disaster he was against Sevilla.
Midfield
Adam Lallana, Emre Can and Jordan Henderson could be the three that Klopp chooses to dominate the middle of the pitch. Can is the only definite starter since Gorginio Wijnaldum could take over either spot.
The energy of the midfield will be key in disrupting the passing of the Gunners. If Can can recapture his form quickly despite not participating a lot during the pre-season, Liverpool will be more than capable of dominating the center of the park, and the match as a whole.
Right Wing
Sadio Mane has been a fantastic addition so far and he has all but guaranteed a spot in the starting eleven this season. He is a capable goal-scorer from the wing, something the Reds have lacked for a number of years.
He already has a good understanding with the rest of the squad and that should only improve as the season progresses.
Forward
Roberto Firmino's fluidity at the top of the formation will be very useful against an Arsenal defense that is missing Per Mertesacker and possibly Laurent Koscielny. His movement across the front three will keep Arsenal on their toes and he has scored against them already.
Now that he has had a full season in England, Firmino should be firing on all cylinders right from the start. Divock Origi or Danny Ings could also start but both would be fantastic options off the bench against a tiring defense.
Left Wing
Like Firmino, Philippe Coutinho is ready for a breakout season. It is time for the little magician to take the next step. He has steadily increased his amount of goals scored over the last few seasons but he still is not as dangerous a scorer as he can be.
Now that he has a lot of other teammates who are a threat to score or assist a goal, opposing defenses will not be able to focus all their effort into stopping him. He will have more space than ever.
(4-3-3)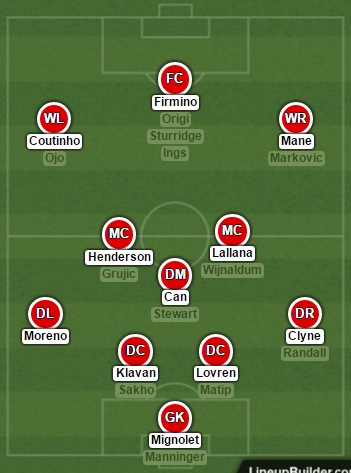 Via – Lineup Builder