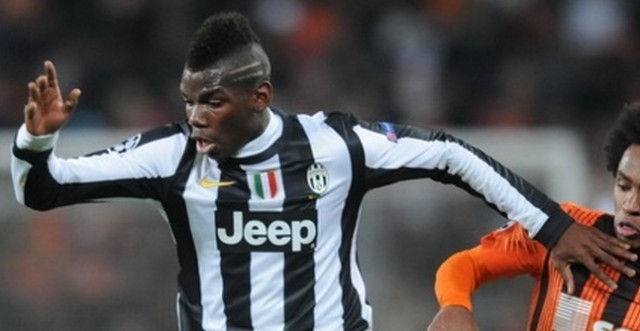 Manchester United have announced the world-record signing of French international midfielder Paul Pogba on a 5-year deal with an option for a further year.
United have agreed to pay Juventus €105m plus an extra €5m in add-ons.  The fee will be paid over two financial years.
Pogba returns to the English giants 4 years after leaving them for Turin on a free transfer in controversial circumstances.
The world-class midfielder, who has been handed the number 6 shirt at United, has expressed his delight at rejoining the club and has vowed to win titles with the 20-time English champions.
"I am delighted to rejoin United. It has always been a club with a special place in my heart and I am really looking forward to working with José Mourinho," Pogba told United's official website.
"I have thoroughly enjoyed my time at Juventus and have some fantastic memories of a great club with players that I count as friends.
"But I feel the time is right to go back to Old Trafford. I always enjoyed playing in front of the fans and can't wait to make my contribution to the team.
"This is the right club for me to achieve everything I hope to in the game."
Jose Mourinho, who led United to a record 21st Community Shield trophy last weekend, has welcomed the midfielder to the club, saying he sees Pogba as an essential part of the United team in the years to come.
"Paul is one of the best players in the world and will be a key part of the United team I want to build here for the future. He is quick, strong, scores goals and reads the game better than many players much older than he is," Mourinho said.
"At 23, he has the chance to make that position his own here over many years. He is young and will continue to improve; he has the chance to be at the heart of this club for the next decade and beyond."
The French star left United in search of regular first-team football as an ambitious 19-year-old and has now returned to Old Trafford as the most expensive player in football history.
Pogba, who suffered a heartbreaking Euro 2016 final defeat to Portugal on home soil last month, spent the last few weeks on vacation in the United States while United's executive vice-chairman, Ed Woodward, was trying to secure his signature.
The 23-year-old midfielder has never hidden his love for United and now has the chance to prove his worth to the United faithful.
Pogba is an absolutely fantastic signing for Manchester United and as long as he contributes on the pitch, no one will pay attention to his transfer fee.
He hasn't played a single game since the Euro 2016 final, so he's unlikely to start in United's opening game of the 2016/17 Premier League season away at Bournemouth this Sunday.