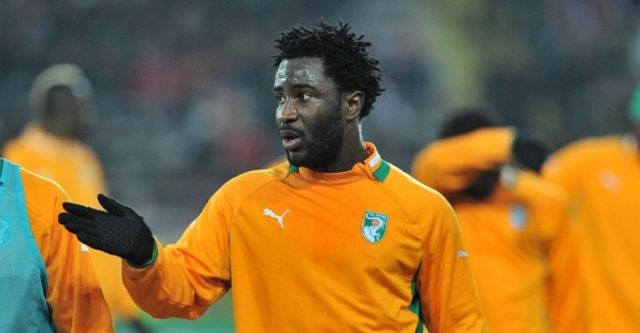 According to the Daily Star, Arsene Wenger is set to sanction a £30 million move for Manchester City striker Wilfried Bony.
According to the "Exclusive" members of the Arsenal backroom have been pushing Wenger to make a move for the 27-year old Ivorian striker, and with their options in the market dwindling, the manager is set to succumb to pressure.
Bony did not travel to Gothenburg, Sweden with the City squad where they lost 3-2 to Arsenal on Sunday. According to the report, Pep Guardiola hinted that Bony might be on his way out when he described the striker and center back Eliaquim Mangala as Manchester City players "at the moment".
Bony signed for Man City from Swansea City during the 2015 winter transfer window. The Ivorian cost the Manchester club a reported fee worth up to £28 million if certain escalators were met. Bony was in illustrious form during his Swansea career where he scored 34 goals in 56 starts. Since his transfer north, Bony has managed only 10 goals and has had a hard time adjusting to his new surroundings.
Arsenal are short in striker options with Danny Welbeck set to miss the majority of the upcoming season and Olivier Giroud to miss the first few matches of the league year. That leaves Theo Walcott, Chuba Akpom, and Alexis as the club's only forward options, although both Walcott and Alexis have primarily operated on the wings throughout their careers.
It seems that the Daily Star simply put Bony's availability and Arsenal's known need for a striker together and come up with a transfer rumor. It would be ludicrous to spend £30 million on a player who has underperformed for the better part of a year and a half and cost his current club less than that.
While Bony may be one of the better options on the market, Arsenal are not so desperate for a striker that they would pay £30 million for a player who hasn't played better than any of their strikers. Bony's representative can point to his outstanding time at Swansea, and there isn't any reason to believe he can't hit those heights again at the right club, but that does not mean Arsenal should overpay.
Arsenal should spend that kind of money, and probably more, on a center back, which is an area of the squad in greater need. Once they've sorted out their center back deficiencies, they can go after a striker like Bony who will likely be available until the end of the transfer window.
It's also questionable whether Man City would sell Bony to one of their main title rivals, especially with the knowledge that an additional striker would make Arsenal a significantly more dangerous squad.
This transfer rumor smells of desperation and is the type of deal Arsenal would only make on the final day of the transfer window when they've exhausted all their options. Even then, £30 million seems like quite a lot.