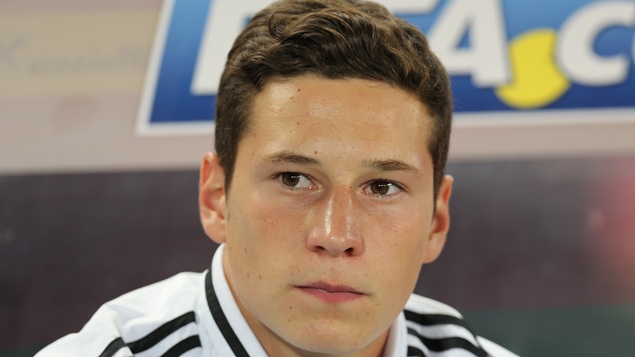 Long time Arsenal target Julian Draxler has stated his desire to leave Wolfsburg and on move on to a larger club.
In an exclusive interview with Bild (translated by Sport Witness), Draxler blunted outlined his intention to move clubs and revealed he had spoken to management about his discontent immediately after Germany's Euro 2016 semi-final exit.
"Before one goes public, they should also have a word with myself," said Draxler in reference to Wolfsburg earlier stating that the player would not be leaving the club this summer.
"For me it is so that I have expressed myself clearly after the Euros, with Dieter Hecking [Wolfsburg manager], that I want to leave Wolfsburg. The coach knows for more than three weeks.
"Two days after the semi-final at the European Championship I told him how I see the whole situation and what I want – which is to leave the club."
A Draxler transfer is complicated by the fact that he only joined Wolfsburg last summer from Schalke for roughly €36 million. He has four years left on his contract, meaning Wolfsburg have leverage in any negotiation and any interested club would have to pay considerably more than what Wolfsburg paid last summer.
However, Draxler also revealed he always considered Wolfsburg to be a stepping-stone in his career, and the club was made aware of that last summer.
"I was verbally assured with my transfer in August 2015 that I can leave the club when given opportunities. Both from Hecking, as well as [Wolfsburg Sport Director Klaus] Allofs.
"It was always clear between all parties that I would like to go to a top international club if the opportunity arises. It was discussed that we speak rationally with one another, if other clubs show interest."
According to Sport Witness, at the end of the Bild's exclusive, that stated 'P.S. Draxler is at Arsenal London and Juventus Turin in conversation'.
Arsenal's interest is well known, and as stated above, Arsene Wenger is a long-term admirer. Draxler was linked to the club earlier this summer and Wenger spoke fondly of the player during Euro 2016. The Gunners came close to signing Draxler during the 2014 winter transfer window but couldn't agree on a fee with Schalke.
Although Draxler has primarily played wide throughout his career, he is a versatile player and is capable of playing as a forward. His versatility would fit Arsenal's search for a striker as Wenger may look to convert him to a full-time striker, like he did with Thierry Henry and Robin van Persie.
Arsenal continue to be linked with a move for Lyon striker Alexandre Lacazette and Leicester City winger Riyad Mahrez. In all likelihood, they are in discussions for all three players to ensure they have a fallback option.
Draxler's comments are those coming from a player who has been made aware of interest from other clubs and is attempting to force Wolfsburg's hand in hope of diminishing their negotiating power and possibly lowering their asking price.
Juventus are flush with cash that they are set to receive for Paul Pogba, however, a good chunk of that was already spent on Gonzalo Higuaín. Juventus' interest and Draxler's proclamation may force Arsenal to pursue the German's signature more aggressively, especially if they continue to hit a wall with Lacazette and discussions for Mahrez draw out.
Considering Arsenal's long-standing interest, their need for an attacking player, and Draxler's clear desires to leave Wolfsburg, there genuinely could be something in the works.