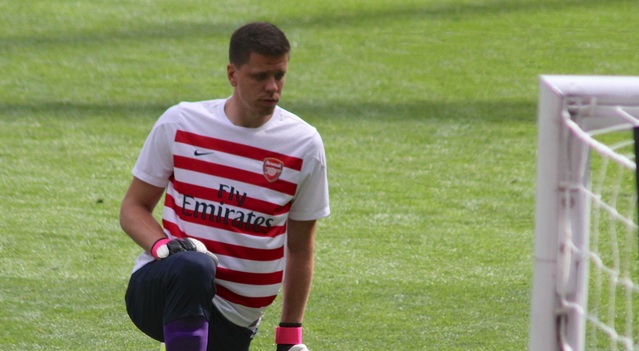 According to Gazzetta World (via Gazzetta dello Sport), Wojciech Szczesny is set to return to Roma on loan for a second consecutive season.
Per the report, the agreement includes a €16 million purchase option, which can be triggered at the end of the season.
The Polish international spent last year on loan with Serie A club. He made 34 appearances and helped Roma secure Champions League qualification for the upcoming season.
Arsenal are currently flush at the goalkeeper position with Petr Cech, David Ospina, and highly-rated Emiliano Martinez in the squad.
Szczesny lost his starting place to Ospina during the 2014/2015 season, and was pushed further down the pecking order with the acquisition of Cech last summer.
Szczesny is held in high regard at the club, especially after coming through the club's youth system, but there are concerns about his temperament.
Although neither club has officially announced the deal, it seems that Szczesny's departure is a foregone conclusion considering he was left out of the Arsenal squad that travelled to California this week.
The Polish keeper's impending move also clears up the future of Ospina. The Colombian international put in a sensational performance during this summer's Copa America and it was widely believed he would seek a move elsewhere in an attempt to secure a starting place.
As of last week, Arsene Wenger had made clear his desire to keep Ospina at the club, and stated his belief that the Colombian international is a world-class player and the best backup keeper in the Premier League.
It's doubtful that Wenger can keep Ospina happy as a backup past this season, which makes it surprising that a purchase option has been included in Szczesny's loan agreement.
The Polish keeper is still young, and has plenty of time to mature and improve before he hits his peak years. When Ospina leaves the club, Szczesny would be an ideal replacement and could serve as the potential successor to Cech, who will turn 34 this season.
Although the deal has not been officially announced, it's clear that Szczesny is not in Wenger's plan for this season. Once this deal is announced, it will be interesting to see whether there is a purchase option included.
If such an option exists, it would indicate that Szczesny is not part of Arsenal's long-term plan. However, if a purchase option is not included, it would show that Arsenal still rate their youth product.
We wait and watch.